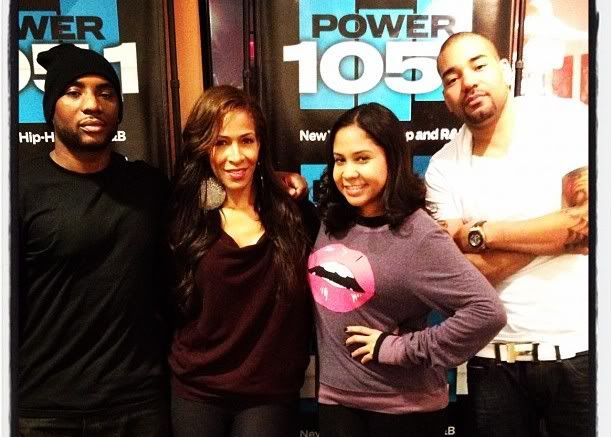 "RHOA" Sheree Whitfield stopped by Power 105.1's "The Breakfast Club" to talk about dating, her "money issues" and why she hasn't gotten child support.  Watch the interview inside and find out how her single "Who Gon Check Me Boo"came about....
Sheree Whitfield talked to "The Breakfast Club" this morning to dish on dating, her ex-husband and her money issues. Here are the highlights:
On "Who Gon' Check Me Boo":
She revealed that proceeds from the single go to charity and said she decided to record it after a producer contacted her on Twitter with a great concept.
On dating:
She revealed that she is dating but she hasn't found anyone special. 
On the "disappearing" Aston Martin:
After a huge fight with her former attorney, Sheree stopped paying him and he took her car. "My car was seized. That means it was paid in full. My attorney fees are almost $300,000. So, I stopped paying my attorney."
On moving from the McMansion to an apartment:
"I'd been renting a place, paying $5,000/month. To me, it makes more sense to downsize and use that money to put into my house that I'm building."
On NeNe Leakes:
She said they ARE NOT friends and NeNe's teeth used to be rotten.
On ex-husband Bob Whitfield:
Talking about Bob, she said, "I've never been big on looks. I like how somebody treats me. I like their personality. He was funny."  She added that he still hasn't paid child support and the case is still in court.
And around the 4:30 mark, when it comes to Bob and child support, Sheree looks a little "suspicious."  It seems like she is holding a secret.....or was really afraid the interview was about to get deep into the child support story.  Seems like there is more going on than we know about..... 
Around 10:02, she dodges the murky issue about her first house, which she and Bob were supposed to sell together.  All we learn is that she said there was no profit in the house.  Does she owe him money...does he owe her....who knows?  
Watch the full interview here: