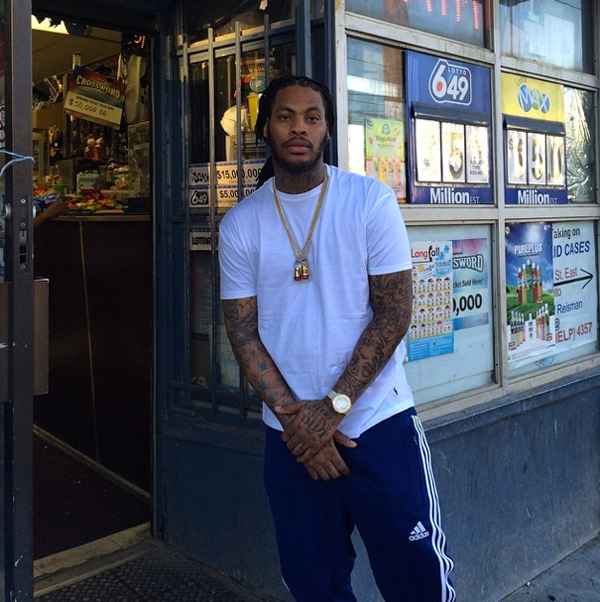 Waka Flocka Flame is looking to shorten the unemployment line. He's looking for his very own blunt roller…with a $50K annual salary. We can't make this stuff up. Also, Kim Kardashian West is defending her husband Kanye West after his insensitive wheelchair comments during his recent YEEZUS tour stop in Sydney. Find out the deets on today's foolywang material inside…
Need a job? Can you roll the perfect blunt? If so, you may have found your dream job.
Atlanta rapper and "Love & Hip Hop: Atlanta" star Waka Flocka Flame is on the hunt for the perfect blunt roller. And he's offering an annual salary of $50,000 (wonder what types of benefits he will be offering). Yep…$50K a year to become his personal marijuana joint roller.
In an Instagram post, he asked his potential candidates to use the hashtag #ICanRoll, to show off their blunt rolling skills:
And he needs to check out your Mary Jane rolling abilities STAT!  Rappers and their new money....
In other foolywang news….
 
Kim Kardashian West is coming to her husband's defense! During his YEEZUS tour stop in Sydney over the weekend, Kanye West demanded all of his fans to stand to their feet. He saw some concertgoers still sitting, so he put them on blast. Problem is…he was blasting a fan that was wheelchair bound!
Now Kim is speaking out, defending her husband saying he NEVER asked anyone in a wheelchair to stand and that the media is twisting things. Ummm…did she see the same video we saw?
In an Instagram caption (with the video above), she wrote :
What an amazing Australian tour! Its frustrating that something so awesome could be clouded by lies in the media. Kanye never asked anyone in a wheel chair to stand up & the audience videos show that. He asked for everyone to stand up & dance UNLESS they were in a wheel chair. #JustWantedEveryoneToHaveAFunNight #TheMediaTwistsThings
We're just going to leave this here….
We will point out that AFTER the Sydney incident (above), he did change up his request during his following show in Brisbane. He said, "Everybody who is not in a wheelchair or handicapped will stand up. If you can not prove to me that you are in a wheelchair you need to be standing, if you can it is okay to sit down."
How about just apologizing for the (first) mishap instead of trying to place blame on the media? Or…is that asking too much?
EXTRAS:
1. The grand jury now has until January 7th (originally scheduled for October) to decide whether Ferguson police officer Darren Wilson should be criminally charged for the fatal shooting of unarmed teen Michael Brown.  Ridiculous.  STORY
Photo/Video: Waka's IG/Kim K's IG