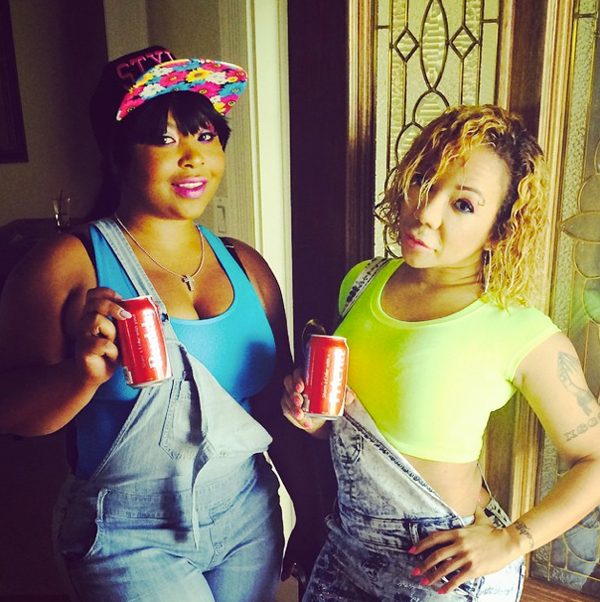 We told you it was coming. And now, it's here. Tiny& her bestie/hair stylist Shekinah Jo just got the greenlight for their new reality TV spinoff "Tiny & Shekinah's Weave Trip."  WEAVE TRIP?!  Find out when it premieres and peep the trailer inside…
Get your closed-captioned subtitles ready! "Family Hustle" stars Tiny& Shekinah Jo are coming to a television screen near you very soon with their new spinoff show. And they will be taking us along with them as they embark on a cross-country road trip to promote their new mobile hair salon business. Please Lordt let there be subtitles!
The duo will be bringing their hilarious antics and down south drawl in an eight-episode, half hour weekly series titled "Tiny & Shekinah's Weave Trip." Yep…that's the real title. And it premieres Monday, October 13th at 9:30PM ET on VH1.
In a press release about the upcoming show, the show is described as the following:
With a true passion for flawless hair that just couldn't be restricted to the Atlanta city limits, these ladies are taking their talents and philosophy that "everyone deserves fabulous hair" on the road. From The Voodoo Shop in New Orleans to the Navajo Nation in Arizona, no place is safe when Tiny and Shekinah hit the road. The dynamic duo is ready to leave their comfort zone and experience new cultures, all while being out of their element, starting their new business venture and adjusting to life on the road. Along the way expect an adventure no one will ever forget, a good dose of laughs, some mishaps, a bit of drama and a healthy amount of shenanigans as the ladies work to get their mobile salon off the ground.
If it's anything like THIS deleted scene from the "Family Hustle"or their recent attempt to film a commercial for Shekinah's edge-control gel, we're sure it will be MANY things. 
Check out the trailer below:
Will you be tuned in?
Photo: Tiny's IG