Reclusive rapper/actor Andre Benjamin talked to the NY Times about his Jimi Hendrix transformation, how he battled depression and returning to the stage.  See the highlights inside and listen to "Don't Shoot", a song penned by The Game and dedicated to the memory of Michael Brown (with Diddy, Rick Ross, 2 Chainz& more).  
Even the most celebrated individuals in the world battle depression and self-doubt. 
In an interview recently published by The New York Times, Grammy-winner Andre 3000 opened up about his latest movie role as Jimi Hendrix ("I needed something to focus on to get me out of my depression and rut"), feeling guilty about abandoning Outkast and partner Big Boi ("We've left millions and millions of dollars on the table"), the best advice he received from pop icon Prince (" Just give them the hits') and surprisingly how he uses music to battle depression and self doubt ("When you feel it, it's right. If you don't feel it, then why? Honestly, think about it. Why do it? Why?").  Here are the highlights:  
On taking on the role of Jimi Hendrix: "Honestly, I needed it in my life, too. Hendrix kind of saved me. I was in a not-so-great space, just in a dark place every day. I needed something to focus on to get me out of my depression and rut. Sometimes, when you're alone, you can let yourself go. I knew if I got on a train with a lot of different people, then I couldn't let them down."

On growing old in hip-hop: "I remember, at like 25, saying, 'I don't want to be a 40-year-old rapper.' I'm 39 now, and I'm still standing by that. I'm such a fan that I don't want to infiltrate it with old blood."

On being a dad to Seven and how life changed once he moved in:  Seven's been going to school in Atlanta for the last two years. I wake up every morning, take him to school, pick him up from school, going to soccer games, going to wrestling matches. Total dad, which is cool, because so much of that was taken by my early Outkast years. We were at the height, so a lot of the time that should have been [spent] with him, I'm on the road entertaining everybody else.

On his recent guest verses: "I struggle with the verses. I don't sit around and write raps, I just don't. Now the only time I'm really inspired to write raps is if an artist that I enjoy invites me to their party. So if Future calls and says, 'Hey man, I want you to do this,' I don't want to let Future down. I don't want to let Lil Wayne or Drake down, because I love them."

On his decision to tour: "Honestly, I never planned to go onstage again in that way. If I feel like I'm getting to a place where it's mimicking or a caricature, I just want to move on. But I felt like: Let me do it now 'cause these kids [in the audience], it feels good to know that they're happy. I really don't actually get anything from performing. … I feel good in being able to look at Big Boi and say, 'Hey, man, we did it.' Big Boi's got these great records on his own, but this means something else for him."

On his apology to Big Boi on T.I.'s "Sorry": "We've left millions and millions of dollars on the table. We didn't even tour for our biggest album [Speakerboxxx/The Love Below]. I just wanted to say I know how hard it must be."

On his first show at Coachella: "I think people could see it at Coachella, the very first show. It was foreign. My head wasn't there. I kind of fluffed through rehearsals. A few hours before the Coachella show, I get a message that Prince and Paul McCartney are going to be there. My spirit is not right, and idols are standing side-stage, so as the show started, I'm bummed. This is horrible. In my mind I was already gone to my hotel room halfway through."

On Prince's advice: "He said: 'When you come back, people want to be wowed. And what's the best way to wow people? Just give them the hits.' I'm explaining to him that I really didn't want to do it. He said: 'I've been there. I've tried to do other things. After you give them the hits, then you can do whatever.'"

On new music: "I'd love to put out an album. I'm just going to call it honest. I know this may sound morbid, but I was like, if I were to die today, I have all these half-songs on my hard drive, and I don't want that."
Gotta love that Three Thou.  Read the full article here.
In new music....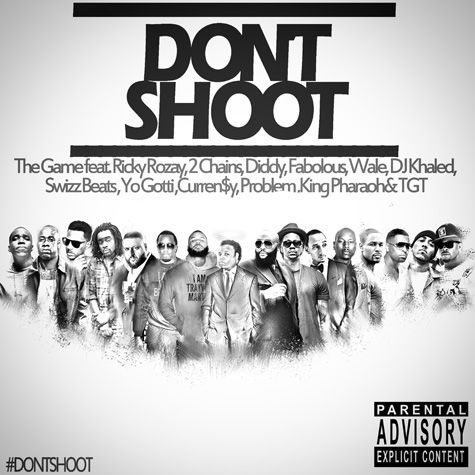 The Game has penned and released "Don't Shoot", a song dedicated to the memory of Michael Brown and to the unrest in Ferguson, MO. The track pulls together some of the biggest names in Hip Hop, including Rick Ross, 2 Chainz, Diddy, Fabolous, Wale, DJ Khaled, Swizz Beatz, Yo Gotti, Curren$y, Problem, King Pharaoh, and Rnb powerhouse TGT.  When asked about putting together the collaboration, The Game said,
"I managed to get everyone on fairly easy, simply because we have hearts. "We care and are inclined to take a positive approach to resolving an issue that has existed since the beginning of mankind and that's racism and hatred towards one another as human beings."
Good to see the rappers the black teens and young adults idolize actually speaking up...
The song is now available on iTunes, with all proceeds benefitting the Justice for Mike Brown charity.
Photos via Patrick Redmond/XLrator Media