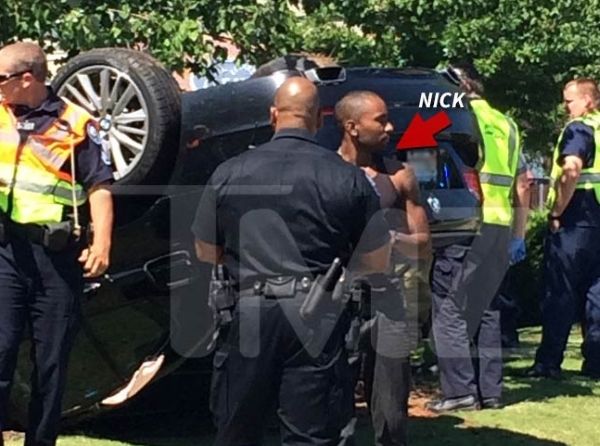 Nick Gordon, the husband of Bobbi Kristina, was arrested for DUI after a nasty car crash that flipped his vehicle.  More inside....
On Thursday, police in Roswell, GA responded to an accident involving Nick Gordon, the husband of Bobbi Kristina.  He survived.  But the accident itself was nasty.  Police say he lost control of his BMW, THEN hit a curb, THEN a fire hydrant and THEN the car flipped over and slide another 200 feet. But from the looks of the pic above, he only walked away with a few scratches.
While his "survival" is a great advertisement for the folks at BMW, the police weren't impressed. They busted him for driving with a suspended license, and arrested him for DUI.  *Shocker*
They have also issued a warrant for a blood test (because they didn't give him a breathalyzer).  Seems like he was VISIBLY under the influence.
Hmm....maybe Angela Bassett should be directing a movie about Bobbi Kris and Nick in addition to Bobby and Whitney.  We're sure there's an interesting backstory that led to the crash. Over on social media - Bobbi Kris is silent.   Very unusual....for her.
Photo via TMZ/Nick's Twitter