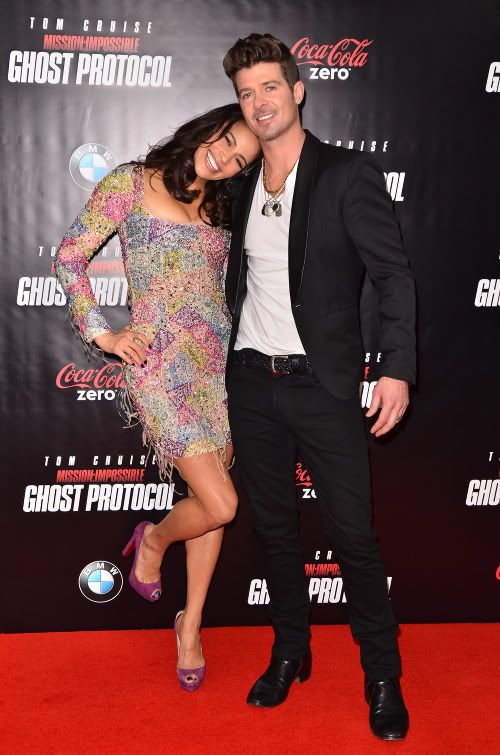 During a revealing chat with ESSENCE.com, Robin Thicke credits loving "the same black woman for over 18 years" as the driving force behind his hits. He also offered up his perspective on Black women dating White men.  See the highlights inside and see his wife Paula Patton stop by "106 & Park."
Robin Thicke chatted with ESSENCE.com recently where he credited loving the same woman for 18 years as what makes his music so different from his peers.  That woman, of course, is fab actress Paula Patton (who wore a multi-colored patchwork Emilio Pucci Spring 2012 embellished dress and purple Christian Louboutin 'Bambou' suede pumps when they posed above at the Mission Impossible: Ghost Protocol premiere.)
And while discussing interracial dating, he says he's never dated a white woman (even though his wife is bi-racial).  He says since both he and Paula have estranged relationships with one of their parents, they fill the void for each other.  And he encouraged Black women to date whomever they want.....but give Black men a chance!  See the highlights:
ESSENCE.com: Being that your music defines romance, how does it feel to know that people are getting married and making babies to your music all the time?


ROBIN THICKE: To be a part of your biggest days -- you know your child being conceived or born, or you walking down the aisle -- there's really nothing sweeter. That's the truth.
It's actually the best thing. It's nice if you can make someone drop it like it's hot, or pop a bottle. But we're always dropping it and popping it. What I realize about the difference between me and my peers -- you know, Chris Brown and Drizzy Drake and all my musical peers -- is that they haven't been with the same woman for 18 years and I've been with a Black woman for 18 years. I've never dated a White woman. Don't want to. I've never been on a date with a White woman. When you have that relationship and that means the most to you -- you know I can't live without that woman, she is my muse, my best friend, and my creative partner. I didn't have a great relationship with my mom and she didn't have a great relationship with her dad and we became that for each other. She's my mama and I'm her daddy. I even call her mama and she calls me daddy. We are that to each other.
ESSENCE: What is Paula's sexiest quality?
THICKE: It's her intelligence and her strength. I've never met a stronger person who stands by their will and their moral values. She is such an amazing human being. Ever since I met her and we were 16 years old and she was the president of the Black student union and I was just a silly White boy who didn't understand or have compassion.
ESSENCE: The media often tells Black women that they're better off dating White guys. What's your response to that?
THICKE: I think that's ridiculous. There are so many good Black men out there that are hardworking, decent, and handsome, you know? To start that rumor is as bad as starting any other negative rumor. There are great Black men out there. There are only a few good White men -- trust me. (Laughs) Good luck finding a good White man who understands your journey. I only have three White friends. I've got 20 Black male friends, who are all good men who take good care of their wives, and good care of their children. I know amazing Black men. Maybe the women have to take better care of their men. Maybe you're being too stubborn. Maybe you're not saying you're sorry. You have to take good care of him, too. You have to give love to get love. 
Read more over at ESSENCE.com.
And speaking of Paula......
The gorgeous actress stopped by "106 & Park" this week to promote her new flick Mission Impossible: Ghost Protocol.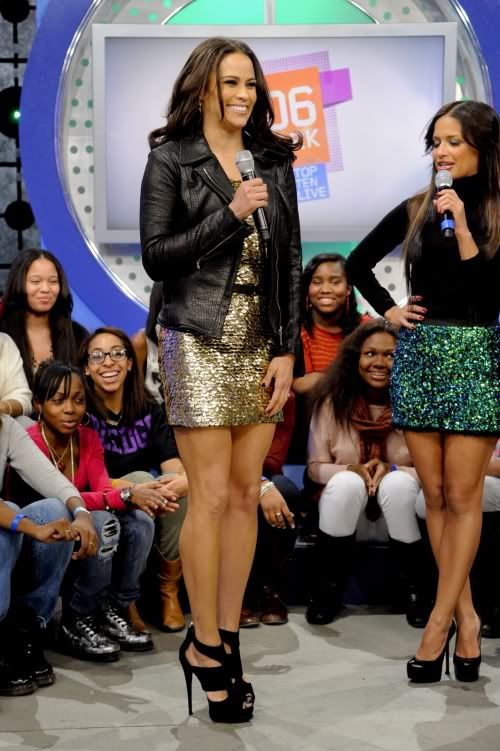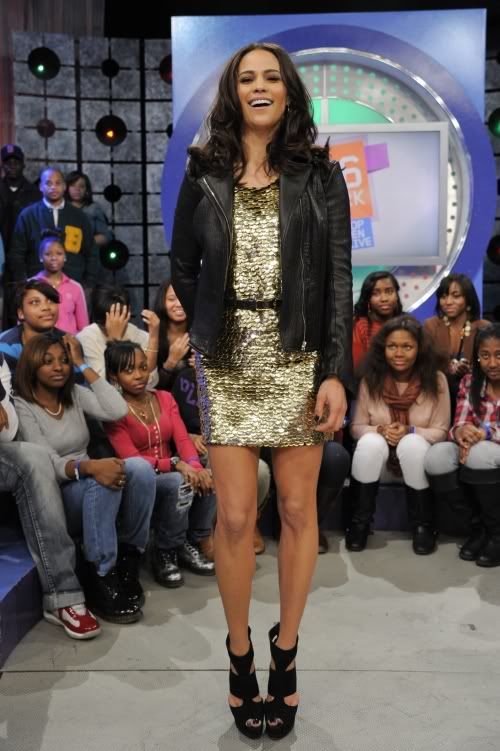 She looked hot in a gold Moschino dress from the Spring 2012 collection and Giuseppe Zanotti sandals. Nice!
BONUS: Since we mentioned Drake, watch his new "The Motto" video featuring Lil' Wayne and Tyga below: