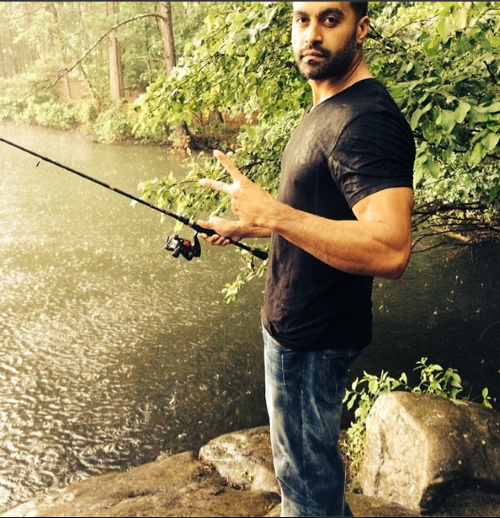 Apollo Nida is finally speaking out since his sentencing and he's confirmed that he and wife Phaedra Parks are not in a good space and he doesn't think their marriage will survive his upcoming jail term.  Listen to his interview inside.  
In his first interview since he was sentenced to 8-years in jail for identity theft and other crimes, Apollo Nida talked to BE100 Radio's STFU! Crew and host Rodney Perry where he confirmed what we'd already suspected, Phaedra is done with him.
You'll recall, while Apollo was in court, Phaedra was in Cancun with Fantasia and Kandi.  Tsk Tsk.  In addition to blasting Phaedra for skipping his sentencing, he says he regrets what this will do to his family. Here are the highlights:
On Phaedra and the status of their marriage:
When asked if his marriage will survive his jail term, he said, "I doubt it...My wife didn't even f—king show up for my sentencing. I'm still salty about that. You know, whatever."

On his two sons and how this will impact their lives:
"'It doesn't make you less of a man to cry, to shed tears. I'm really upset about how I was raised and I could possibly take my sons through the same thing. 'But by the grace of God he's still young and we have many years ahead of us. I just cant make those same mistakes."

On making peace with his crimes:
"'This is hell, hell on wheels I've asked God to forgive me, I've forgiven myself I had to move on like a lot of people I know who didn't.'
Though he'll be heading to the slammer soon (he's awaiting word from the US District Court in Georgia), Apollo did get some good news. He only has to pay back $1.9M that he stole. This is good news because he was facing 30 years and could have been asked to pay back $14M. Clearly, he had some good lawyers.
According to TMZ, the money will be split like this:
-- JP Morgan Chase $828,300
-- IRS $127,011
-- Delta Airlines $24,985
-- State of California $15,778
-- State of Connecticut $45,525
-- State of Texas $39,275
Listen to the interview here: