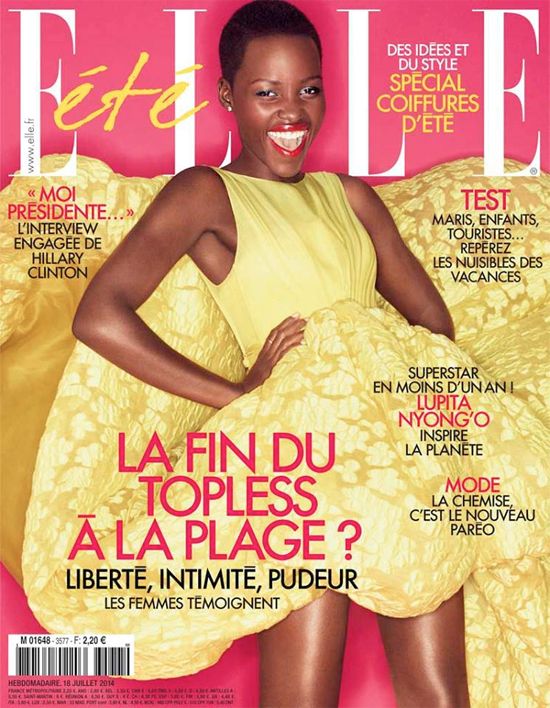 She does it again! Lupita Nyong'o nabbed yet another magazine cover and she is simply radiant. Check out her effortless fabness on the cover of Elle France magazine's newest issue and Marsha Ambrosius on the cover of Rolling Out magazine inside…
When it comes to slaying magazine covers, Lupita Nyong'o can do no wrong.
After giving us all life with her first ever VOGUE cover, the Oscar-winning actress stuns on yet another magazine cover. Lupita is effortlessly fab in a beautiful yellow Giambattista Valli's Haute Couture dress, serving up some Marliyn Monroe tease on the cover of Elle France magazine's July 2014 issue. 
Shot by photographer Alexi Lubomirski, the most beautiful one glowed as she flashed her million dollar smile and showed off a little leg. Not only canshe braid hair like a pro, the Lancôme spokeswoman proves she can rock covers with the best of the best. And we're totally here for it.
The Kenyan beauty is currently filming her new role in Star Wars Episode VII and is gearing up to play the voice of Rakcha in The Jungle Book alongside Scarlett Johansson and Idris Elba.
 
Can't wait.
And on another magazine cover....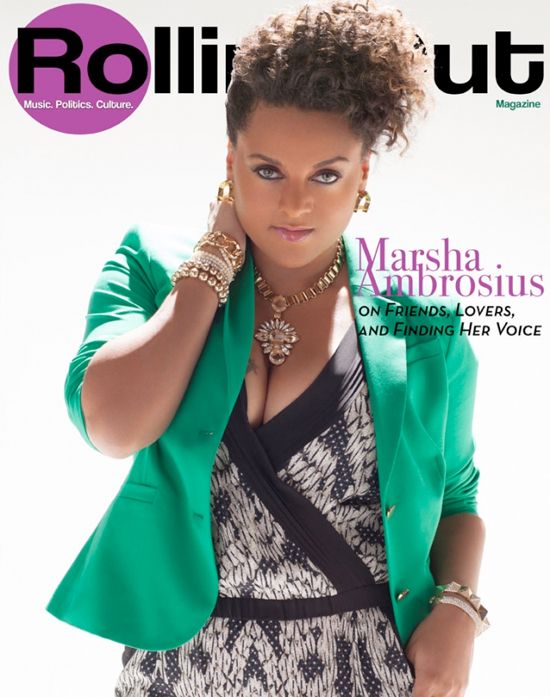 Marsha Ambrosius is gracing the cover of Rolling Out magazine's newest issue. And she's dishing on her new album Friends & Lovers.
In the cover story, the Grammy Award-winning singer/songwriter reveals hurdles she had to jump to release her new album, her outlook on life, finding love, inspiration and more.
Here are some highlights:
Tell us about Friends & Lovers and how the two met.
The two met because of my album previous to this one, which was Late Nights and Early Mornings, which resulted in me meeting some friends … and lovers. So on one album, I decided to talk about all of those relationships; all of those situations that I'd been in and already had with a late night and an early morning.

 

How do you pull that through? It's obviously expression. If I'm feeling lonely and I'm listening to you, they should know that you're with them too?
Absolutely. That's what music does. It's your soundtrack to life. You still want to feel something. Like, I'll go back to my holy trinity of music which is: Michael Jackson, Stevie Wonder and Prince, in no particular order. I'll know what I want to play because I know how I want to feel. If I throw on "Take Me With You" by Prince, I know where I want to go. If I switch it up to Michael Jackson's "Working Day and Night," I know I might want to dance and escape — just leave everything behind like I've never had to pay anything in my life. That's what music does.

Can lovers and friends be one and the same?
Absolutely. It depends on the friendship. It starts there. It depends on the dynamics. It depends on the particular relationship. You have friends and you just call. Then there are associates, and if you cross that line, there are no emotions to that. However, if you have a long-standing relationship that you genuinely care about, that has all these emotions for you. You care about their family; they care about yours. You've known about their past relationships; they know about yours. When you cross that line and it doesn't work, that's heartache and pain waiting to happen.

Who gives you the inspiration?
Life. Stevie Wonder … and I say that because to have no sight and write as visually as he does, it just makes me know that it's not judged. It's completely emotionally based. I've never seen music the way I have seen his. Whether it's "Ribbon in the Sky" or "Where Were you When I Needed You?" he paints the picture. I don't know anyone in the world that can make me feel visually the way Stevie Wonder does.


I'm so glad to have that conversation [with him]. Actually our first time meeting was me getting off stage with Gerald Levert, God rest his soul, and who I had done a duet with to honor Smokey Robinson. I get off stage and I hear Stevie Wonder calling my name saying "where's that 'Butterflies' girl?" He yells "Marsha, come over here." I was thankful for that experience. I thank the Lord every day. I called my parents the other day to share a magical moment.
Check out Marsha's full interview here.
In celebration of her newly released album, Marsha performed her lead single "Run" on Conan this week.
Check it:
And she's also joining John Legend on his "All Of Me Tour," starting July 22nd in Cedar Park, TX. Nice!
Photos: Elle France/Rolling Out