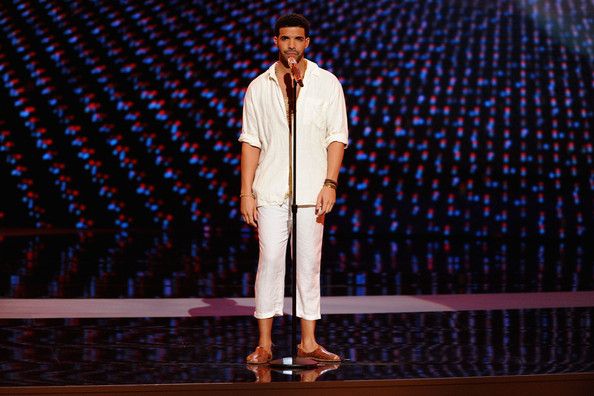 Last night, the 2014 ESPY Awards went down at the Nokia Theatre in L.A., hosted by Drake. And we've rounded up the awards show highlights. Get ready to laugh when you go inside…
For his first hosting gig at the ESPY Awards, Drake pulled out all the stops and put his acting skills to work when it came to cracking jokes on the many sports stars that were in the Nokia Theatre last night. Drake went right in throwing funny jabs at newly drafted Cleveland Browns QB Johnny Manziel, NBA superstar LeBron James and Seattle Seahawks player Richard Sherman.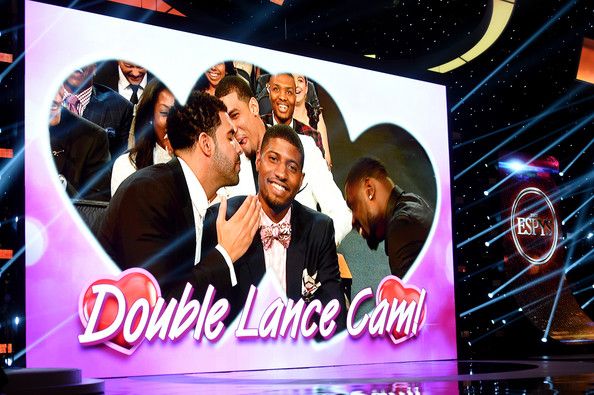 But his jokes got funnier when Drizzy pulled out the "Lance Cam" and blowed in Charlotte Hornets player Lance Stephenson's ear! He was mocking Lance when he blew in LeBron's ear during Game 5 of the Eastern Conference Finals. Then Drizzy went over to Lance's ex-teammate Paul George, got Lance to kneel on the other side of him and they BOTH blew in his ear! #doublelanced
Check out Drake's opening monologue and him blowing in the NBA stars' ear:
Ha!
A surprise to many, Chris Brown popped up at the 2014 ESPY Awards. It seems Drake and Breezy have let bygones be bygones and are slowly making amends, working together to get that money! We first spotted the two in the studio working on a song last week. NOW, Chris and Drake are acting in skits together. Breezy made a cameo alongside NBA star Blake Griffin as a operating surgeon about to perform surgery on Drake during the ESPY's. "BBW LA" star Draya also made an appearance. Check it below:
Funny!
Next, Drake introduced Floyd Mayweather to the stage using a British accent (and two trumpeters) as he read Floyd's real (and fake) accolades. He was soon surrounded by big muscular men dressed in TMT (The Money Team) t-shirts. He then made a joke, "Wow, this is crazy. I'm getting the T.I. treatment tonight." Bloop.
Another hilarious moment during the night, Brian McKnight and Drizzy's duet titled, "Side Pieces" and Drake's "Honorable Mention" songs. They were hilarious. Check them out below:
Hilar!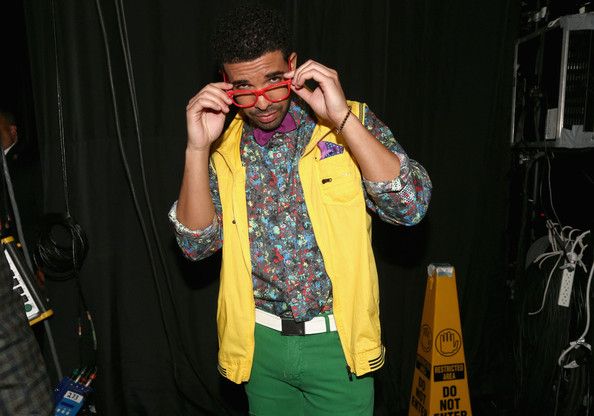 At one point, Drake took the stage in a very interesting and rather colorful ensemble (above) mocking OKC Thunder player Russell Westbrook and his "unique" sense of fashion.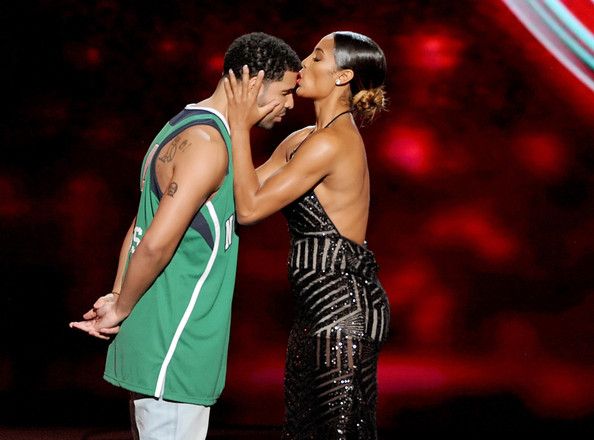 And the highlight of Drake's night was when he was kissed by WNBA star Skylar Diggins. Drake switched it up donning Skylar's college basketball jersey before he started a poem dedicated to the female baller titled, "Can I Dig In?" Skylar surprised Drizzy on stage, coming up behind him as he read his poem. Drake then requested a kiss…but she straight friend-zoned him. She gave him a nice, big kiss…on his forehead.
Check it:

Newly drafted St. Louis Ram player Michael Sam (who is the first openly gay player in the league) gave a heartfelt speech after accepting 2014 Arthur Ashe Courage Award.
During his speech, he would become overwhelmed by tears, trying to hold them back as he talked about how far he has come. He said,
"This year I had a lot of experience being part of something bigger than myself," Sam said. "At times, I've felt like I've been living in a massive storm, without knowing when the storm will end. But I'm here tonight to tell you that the lessons I learned about love, respect, being true to yourself will never leave me."

 
Check out his full speech below:
And last but not least, ESPN analyst Stuart Scott's inspiring and motivational speech after accepting the Jimmy V Award. Back in January he announced he was battling cancer for the third time, but said he is not letting it take over his life.
During his speech, he revealed his body had almost completely shut down last week, causing him to have to endure four surgeries in the last seven days. Talk about perseverance.
He said,
"When you die, it does not mean that you lose to cancer," Scott told the audience. "You beat cancer by how you live, why you live, and in the manner in which you live."
Peep his full speech below:
BONUS: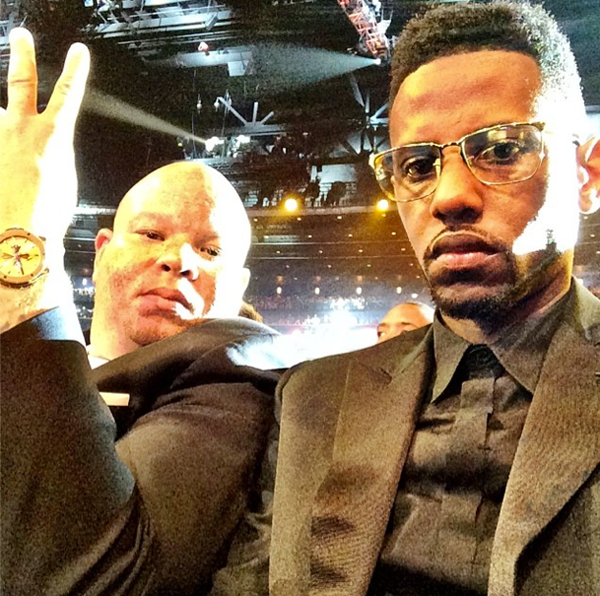 Look who we spotted in the audience….Fabolous! He snapped an "us-sie" with Def Jam exec Shawn "Pecas" Costner, while tweeting his commentary about the awards on Twitter. He shared how uncomfortable the crowd got after Drizzy performed his "Sterling Never Loved Us" and "Side Pieces" songs. We bet!
Photos: Getty/Fab's IG