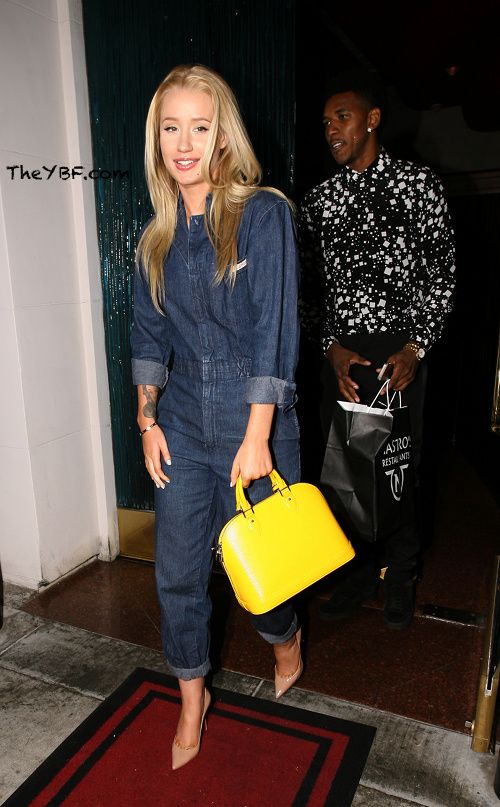 Nick Young dined out with his "Fancy" girlfriend Iggy Azalea last night.  Find out where they went inside...
"Beat Down" rapper Iggy Azalea was spotted signing autographs outside of Mastro's steakhouse in Beverly Hills, CA last night.
Iggy had just finished dining out with her boyfriend, LA Lakers star Nick Young.   Earlier in the evening the couple stepped out together on the red carpet at the 2014 ESPYS which Iggy kicked off with a performance of "Fancy."
At the ESPYs, US Magazine asked Nick how he supported Iggy after Nicki Minaj allegedly dissed her at the 2014 BET awards.  He said,
"Oh man! You know, it is what it is. I had to deal with the aftermath when she came home. When she got home and was going through her phone and hearing all the things and people talking trash about her, you know I had to be there for her. But you know what, Iggy is doing big things and its scaring a lot of people! She don't let it get to her. She's number one right now so what can you do when you are at the top right now? Of course they will all come at you!"
BONUS:
Watch Iggy kick off the ESPYs above....
EXTRAS:
1.  Accoriding to USA Today. "A Malaysia Airlines Boeing 777 en route from Amsterdam to Kuala Lumpur with 295 people aboard crashed Thursday in Ukraine near the Russian border after reportedly being hit by a missile, according to an adviser to Ukraine's interior ministry." Story.
Photos via Roshan Perera/Splash News