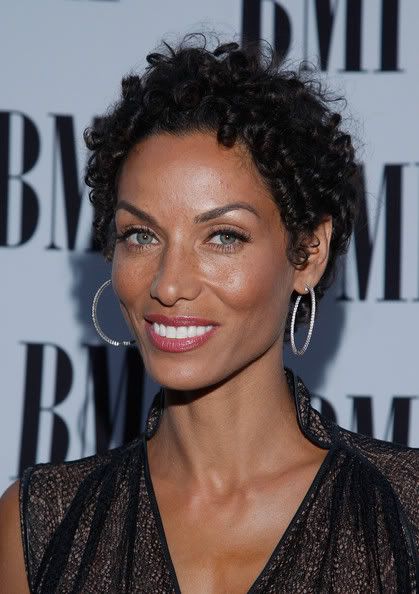 Nicole Murphy is accusing an "entertainment entrepreneur" with stealing $7M from her. Get the deets on the lawsuit inside and, we told you earlier about Ashanti's latest single, "The Woman You Love," watch the footage of the singer in the studio with Busta Rhymes and Jerry Wonder inside.....
A federal indictment has been filed in Sacramento, CA in which Nicole Murphy accuses a man with stealing $7M from her.   
Troy David Stratos was arrested on Tuesday and faces 14 charges of fraud, money laundering and obstructing justice.
So how did he get Nicole for all her paper?
After the money from the divorce from Eddie came rolling in, Troy convinced her to invest the proceeds of her divorce overseas, where they would earn a high rate of return. She put $11M into a revocable trust..... but Troy never invested the money.  He opened a bank account in Florida...for himself...and put the money there.  And whenever they were together, he would pay Nicole's expenses with her own money!
On top of that, he convinced her that her could sell her home in the wealthy Sacramento suburb of Granite Bay, and that she should lease her Rolls-Royce and BMW to make the property more attractive; adding the vehicles would then be sold as a package deal with the home.   However, Troy moved into the mansion behind Nicole's back and was driving her cars!  SMH.
And if that wasn't enough, he had her refinance several of her homes to get more cash. 
As for now, Troy is in jail pending a bail hearing on Wednesday.  Waaaay too much fraud going on these days.  Reason #4590 why poserifness needs to DIE.
And in music..... 
While hard at work on her 5th studio album, due on her own Written Entertainment label, Ashanti has released an exclusive behind the scenes look at she, Busta and Jerry in the studio working on her new single "The Woman You Love."
Watch the video here: