Rihanna was spotted grocery shopping (yes...she does her own on occasion) in NYC for her Grandma's birthday party yesterday. See the pics inside and find out what she says about her own fashion sense...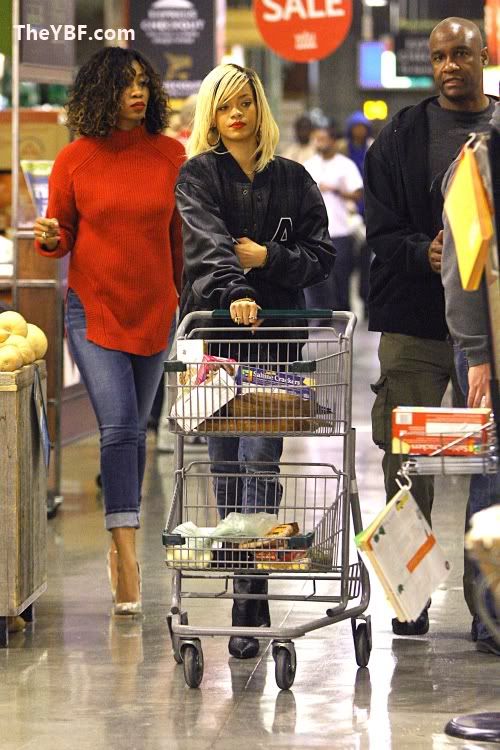 Rihanna was spotted doing her own grocery shopping yesterday with bestie Melissa and security in tow during a run to Whole Foods in NYC.  And it was all so she could cook up (literally) a party for her grandmother who lives in Flatbush.  She used to spend summers and Holiday there when she was younger:
She picked up a few healthy snacks (and maybe some liquor) for a celebration she had planned with her granny Clara 'Dolly' Brathwaite.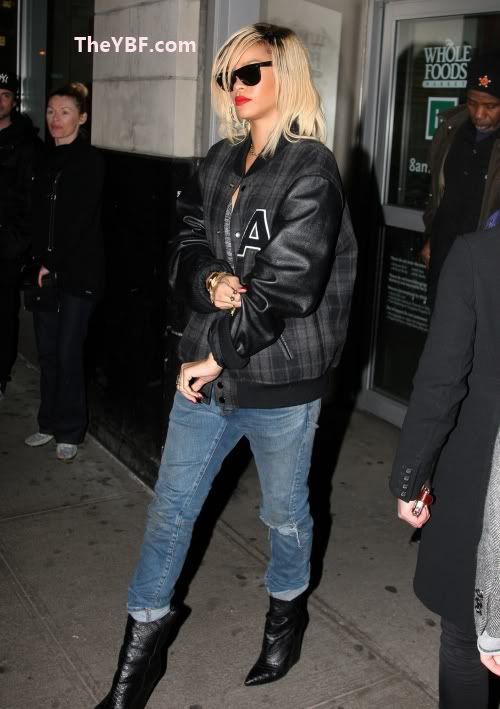 And later.....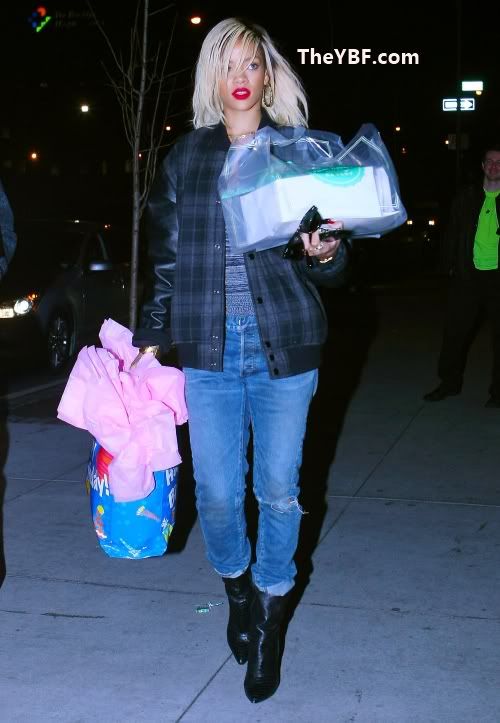 She tweeted, Me and gran gran Dolly gonna celebrate tonight! Happy burrday gyal!!!! 1Love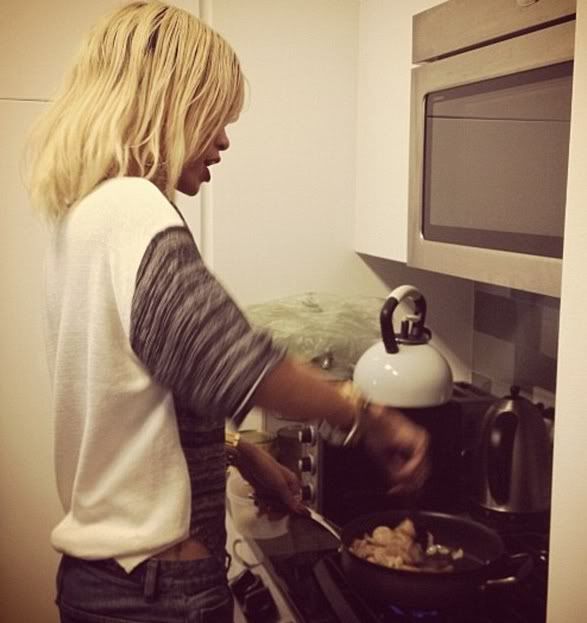 First, she cooked up a few dishes.
And the party started!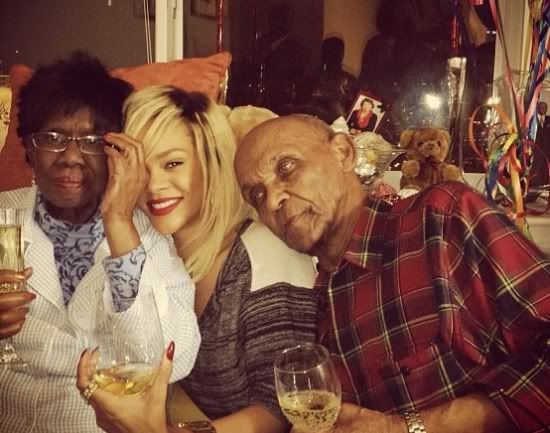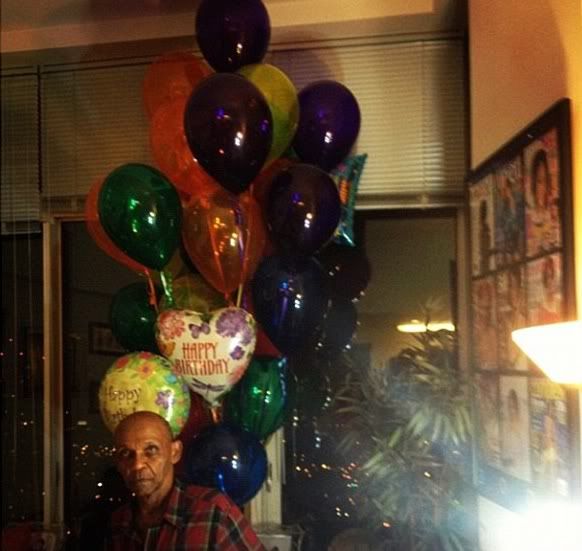 Rihanna also tweeted a cute moment between she and her grandad (Lionel) when he asked her about her hair,
"My GranDad: Robyn how ya is get hair from red to cream to black??? Cuz ya don't carry wigs!!! Ya does wash it out?! ME: ROTFL (no words)"
Ha!  They even have a wall of her framed magazine covers too.  Gotta love proud grandparents.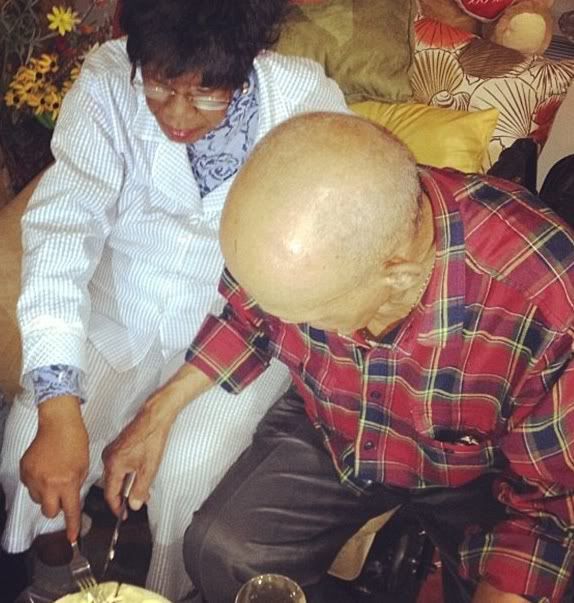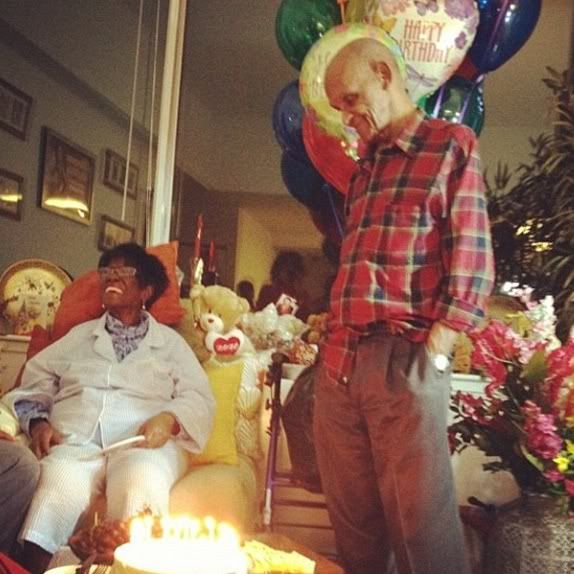 Now we know where RiRi gets her swag.....
In other Ri news....
During her recent Vita CoCo shoot, the pop star did an interview and talked about her friendship with Katy Perry, her thoughts on the KONY movement and fashiom.  Here are the highlights:
On collaborating with Katy: "We have been working on this for years. We still are trying to make a song together, Katy Perry and I. She is one of my favorite musicians, as well as one of my favorite people in the industry. She's very uncalculated, very sure of herself, and that's something very rare in this industry to find. The song will probably come out in a while," she told Jill. "I won't say that it's happening right now, but it's going to happen."
On how they stay in touch: "Whenever we're in the same city, we try to do something — whether it's seeing each other for five minutes for a hug [or] whether it's partying all night at some random after party for an award show. We try to hang out as much as we can, which is very rarely because we're so busy."
On her follow-up to Talk That Talk: "Actually, I have not started working on new music. I've started working on the new sound, but I haven't started really recording yet. This year, we've kind of left a little room to play in other playing fields, like movies, acting [and] fashion. I'm getting into fashion a lot more, really spearheading it as a designer."
On getting involved with the KONY movement: Twitter has brought about so many opportunities not only for me but for the foundations I work with like the KONY 2012 foundation, Invisible Children – we've been very active with them in trying to get the word out and spread the word and get my fans involved because the foundation is so driven by youth and their enthusiasm and their stand in things that are not okay.
Watch her talk fashion below:
Photos via Sharpshooter Images/Splash News/FAME