Rihanna (a fan of the "ink") has a new tattoo. See what she got inside and find out what she said about her own curvy figure and getting her butt back!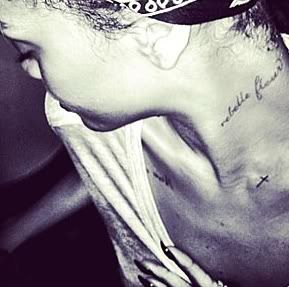 Rihanna recently inked a small cross on her collarbone, and pics surfaced online today.  And though she has been mum on its meaning, perhaps she is asking a Divine power to help her pack on the pounds!  She's said that she wants to put on weight below the waist.
 "I'm working on getting [my butt] back," she told PEOPLE. "It used to be my favorite body part, but now it's disappeared!" Luckily, the singer's got plenty of techniques in mind for the task. "I'm going to have to start hiking or at least going on the elliptical or walking on an incremental treadmill or horseback riding.  Something that firms the butt."
But if the exercise doesn't work, her diet should help with the pounds.  She also said,
"I'm eating everything.  I've been eating ice cream and fast food and Italian food."
But she quickly added, "I drink a lot of coconut water.  It balances out all the other toxic stuff I put into my body."