All of the foolery that went down on stage during 50 Cent's performance at Hot 97's Summer Jam is turning into legal trouble and paperwork for 50, the alleged vicitim Slow of Slowbucks and others involved. Get the latest inside…
FOOLYWANG activities ensued during Hot 97's Summer Jam at MetLife Stadium in New Jersey Sunday night.  And it all went down during 50 Cent's performance.
You'll recall, after 50 brought out Fabolous to debut their remix of "Cuffin' Season" along with the 100+ dudes on stage, all hell broke loose when a fight broke out towards the back of the stage.
Apparently, a rap duo that owns the clothing company "Slowbucks" (one guy is named Slow & the other Buck) were allegedly assaulted and one or both of them had their chain(s) snatched. 50 allegedly rocked the chain(s) for the remainder of his performance after the melee died down.
50 has gone on the record in an interview with Hot 97's Angie Martinez to share his side of the story and he says he didn't see ANYTHING. He revealed:
"I didn't even see it. I was performing," he said to Martinez and co-host DJ Enuff. "I look at Media Takeout and see the rumors and stuff like that, all these different things, but I've seen so many things about me that weren't true…there were so many people. People didn't' leave the stage. The excitement of the show left everyone who was on the stage, and additional people were added on to it. So it was like a crowd. It felt like a park jam. "

"Do you think I want to be attached to that at this point? I don't need that. It does nothing for me. People make mistakes all the time…"
Mmhmm…
Now Slowbucks is fighting back...the legal way.  He launched a civil investigation on 50 Cent and whomever else was involved over the alleged brawl that went down on stage at Summer Jam.
Bostany Law Firm says Slowbucks has teamed up with Civil Investigator John P. Bostany.  They believe his chain was snatched because 50 (and whoever was with him) allegedly sees the Slowbucks brand as competition,,,and they plan to file civil charges of brand dilution.
AllHipHop reports:
"They know he is the founder of Slowbucks, the #1 urban brand on the rise today. They want to hurt that brand and they are trying to hurt that brand we are going to put and end to that. We're here, I'm a Trademark attorney, I'm a copyright attorney and I fight unfair competition," said Civil Investgator John P Bostany.
According to Slowbucks' civil investigator, he claims 50 is lying about not seeing anything because the video footage shows he watched the whole thing go down.
"I looked at the videos and I heard 50′s interview on [Hot] 97 by Angie, who did an excellent job. Questioning him and I heard his responses and his demeanor. If you look at him he says 'oh I was looking at the crowd.' I didn't know what was going on behind me. I was happy that day.' But if you look at him when he's telling that story, he doesn't look happy. He doesn't look like he want to talk about it. If you look at the videos, every single one, whether he's the one picking up the chain or not is irrelevant. His body is facing what's going on and the he turns around, in the middle of it all, and faces the crowd."
He added,
"He had the courage and the strength to come here and remind everyone that no matter how rich or powerful some might become, how popular they may be, they still are not above the law."
 
And Slowbucks has taken to his/their Instagram to clear up that he isn't pressing criminal charges but rather civil charges, because, you know, these "street dudes" don't do cops.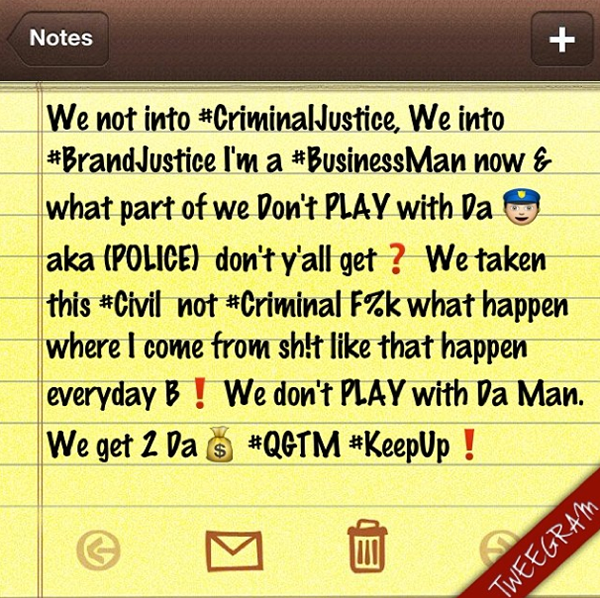 And this: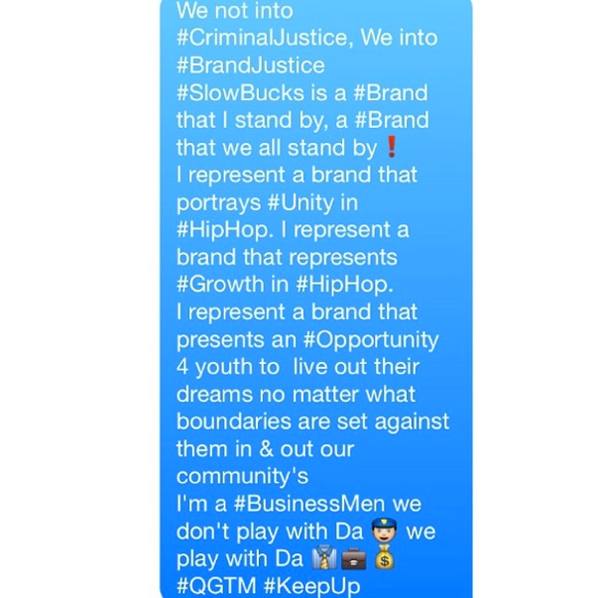 Messy...
Photos: All Hip Hop/Slowbucks' IG