Well, this is sad.  50 Cent's son Marquise Jackson allegedly told the world how hurt he is about his father being a no-show at his high school graduation this weekend.  Check out the emotional breakdown inside...
Wow.  Looks like that beef from last year between 50 Cent and his baby's mother Shaniqua never blew over.  That beef resulted in 50 telling THEIR SON...by text...that he's disowning him.  And lots of horrible language was aimed at Shaniqua through Marquise.  50 tried to cover up the horrific tirade by claiming Shaniqua is always playing on Marquis' phone so he "knew" he was talking to her, and not Marquis.  (We're not buying that.)
Fast forward to this weekend and Marquis' high school graduation.  Apparently, he was expecting pops to show up for him (just like that day that the horrible text message tirade occurred).  But 50 was a no-show (just like that day of the horrible text tirade).
Marquis posted the pic above of himself hugging his sister while crying.  He said:
Yea I broke down , I was really excited to see my pops at my graduation today but he never showed up smh. My sister and mama is always there for me just know that you wasn't. I did it without you
But he did have support from his mom, Shaniqua, his sister, family members, and his "uncle" Jim Jones who posted the below: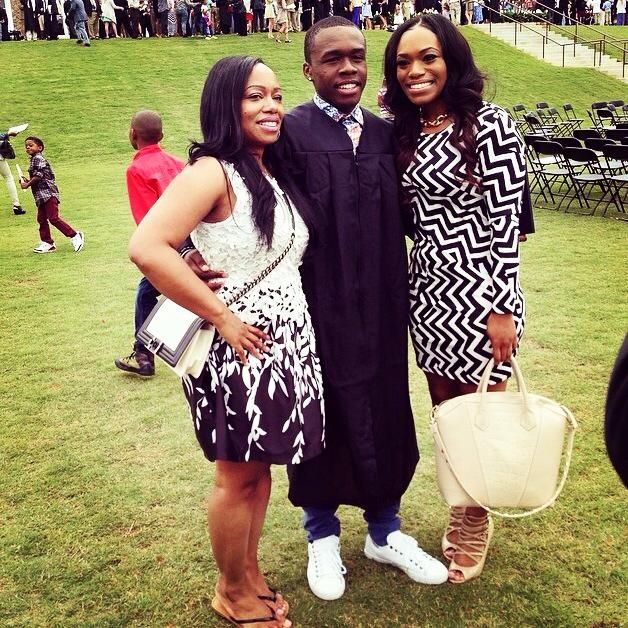 Well, congrats to this young man for keeping his head up despite certain adults in his life not stepping up to do their job as a parent.
Photos: Marquise's FB