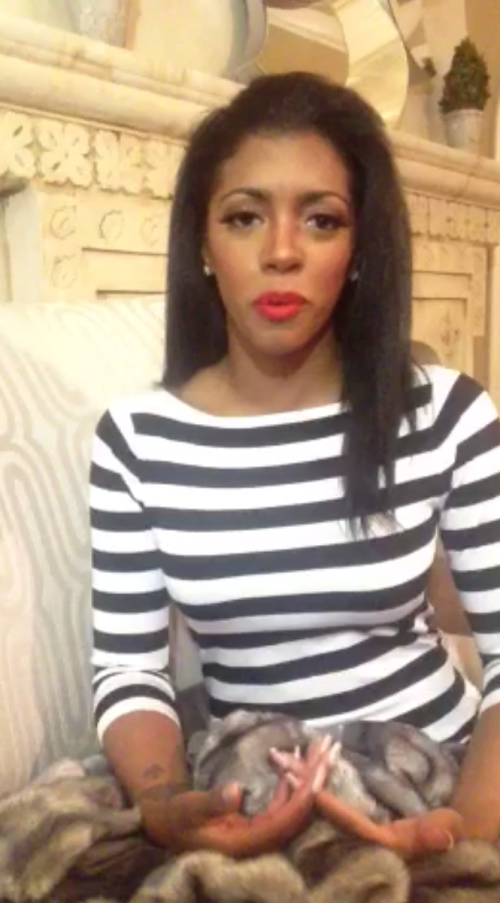 "RHOA" star Porsha Williams issued an apology today for a seemingly anti-gay message that she recorded several years ago.  Watch her apology inside and see what Cynthia Bailey and Miss Lawrence had to say about Porsha being a flipflopper.
Over a year ago (and yes...we said YEAR) we told you about Porsha Williams former life as a minister. Now...those evangalist videos (that we told you about a YEAR ago) are being posted this week by other "mainstream publications" and Porsha has now decided to answer some hard questions.  
In her old sermon, Porsha preached about saving hookers, drug dealers and gays and lesbians...you know "SINNERS".  Now....she's got to answer to fans/BRAVO and others who've seen the tape for the first time.
In the apology video above, she says,
I woke up this morning and my heart was heavy.  Although some people discriminate against others because of their race, their religion, the sexual orignation...we're all worthy of God's love. The sermon was shown not in its entirety, therefore the message was omitted....I apologize that those words hurt the LGBT community, my fans and my supporters. Life is a journey and I'm growing every day. I continue to encourage everyone to love unconditionally. 
We'll admit, Porsha does appear apologetic....and she has grown.  And she's definitely not that Evangelist she used to be.  We don't know any Evangelists who dress and act like her.  She also performed at one of the biggest gay clubs in NYC over the weekend.  And we're not saying it was only because she needed pub and coin, we're just saying.
But....some of her RHOA co-stars threw a little shade. 
Cynthia Bailey told TMZ: "To put gays and lesbians in the same category as drug dealers, hookers, and people who attempt suicide is ignorant and insensitive. Especially when she just recently profited from performing at a popular gay club in NYC. #flipflop"
"Fashion Queens" star Miss Lawrence told TMZ:  "I think some women use the community as a convenience ... i.e. for gay slang, fan base building, and beauty security. But like always, true character always reveals."
What do you think?