WTA defending champion Serena Williams was spotted shopping in Madrid prior to hitting the court to defend her title.  Find out where she went and get deets on her upcoming game inside and watch a laugh-out-loud Beyonce skit on "SNL"...
Serena Williams was spotted hopping out of a chauffeured SUV in Madrid yesterday ready for a shopping spree.  Ranked number one in the world, Serena is in Madrid to compete for her third consecutive title, beginning with a match later today against Swiss teenager Belinda Bencic on Manolo Santana court.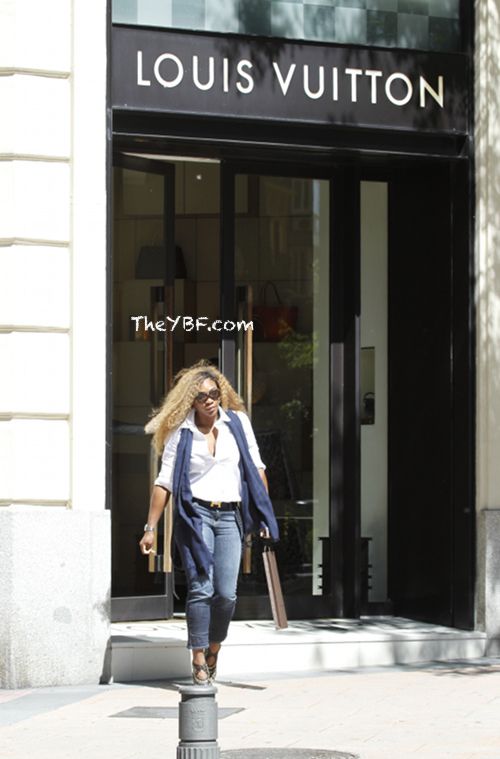 To relax her nerves before the big game, Serena enjoyed a day of shopping at Louis Vuitton.  
Serena, who won titles in Madird in 2012 and 2013, explained to Tennis World USA why she enjoys playing in Madrid,
"I love Madrid. I just love coming here. It's the reason why I come back every year. I mostly love the city - it's just so pretty. And the food is great, so I love the food, obviously...I just love playing here. I hate leaving, I guess. I just don't want to leave. I want to stay. I also love the tournament directors and people who run it - they do a really good job."
On "SNL"....
Last night, "SNL" aired "The Beygency" - a hilarious spin on what happens when you dare to say negative things about Beyonce.
"In a world where everyone loves Beyoncé, Daniel (Andrew Garfield) learns the hard way that you don't say a word against Queen B without retaliation from The Beygency. Not even Jack Bauer (Kiefer Sutherland) and Chloe O'Brian (Mary Lynn Rajskub) are safe."
It's so funny.....and so true.
Photos via FAME/INF