Last week, there were reports that haircare product line Carol's Daughter had filed bankruptcy and closed several stores. Find out what Carol's Daughter investor Jada Pinkett Smith and Carol's Daughter creator Lisa Price had to say about the future of the company inside…
Natural haircare product line Carol's Daughter has had much success in the recent years with backing from celebs such as Jada Pinkett Smith, Will Smith, Mary J. Blige and others. But a recent report revealed the company allegedly filed for Chapter 11 bankruptcy protection and was forced to close five or their seven store locations.
NOW…Jada Pinkett Smith and Carol's Daughter creator Lisa Price are speaking out against those reports revealing Carol's Daughter is still going strong and isn't going anywhere.
Jada took to her official Facebook page and had this to say (along with the picture above):
I know you all often see my hair in various ways, but what you see in these pics is MY natural hair. I've taken care of this mane with CAROL'S DAUGHTER products for over 15 years, specifically...Lisa's Hair Elixir. With that said, Carol's Daughter is still going strong, despite some misleading press, so much so you can now find it in Target, on HSN, Ulta and Sephora inside JCPenny.
My hair would like to say thank you to Lisa Price of Carol's Daughter for making products that actually nourish the scalp and hair;)

J
 
All that hair!
The founder of Carol's Daughter (seen above with Jada) issued her own statement via her Facebook, responding to bankruptcy reports saying: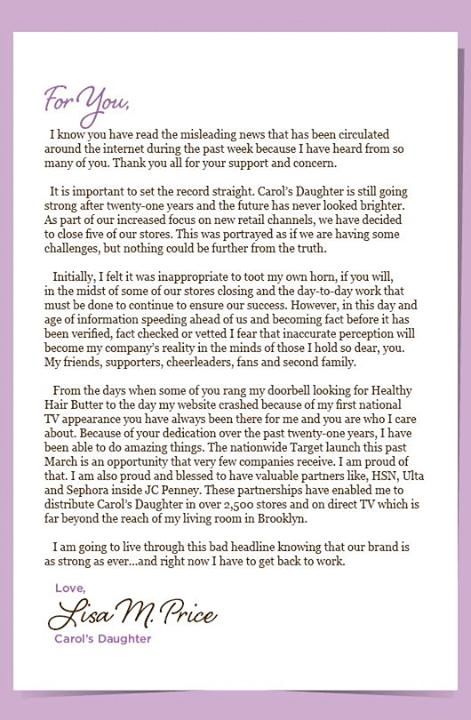 "For you,

I know you have read the misleading news that has been circulated around the internet during the past week because I have heard from so many of you. Thank you all for your support and concern.

It is important to set the record straight. Carol's Daughter is still going strong after twenty-one years and the future has never looked brighter. As part of our increased focus on new retail channels, we have decided to close five of our stores. This was portrayed as if we are having some challenges, but nothing could be further from the truth.

Initially, I felt it was inappropriate to toot my own horn, if you will, in the midst of some of our stores closing and the day-to-day work that must be done to continue to ensure our success. However, in this day and age of information speeding ahead of us and becoming fact before it has been verified, fact checked or vetted I fear that inaccurate perception will become my company's reality in the minds of those I hold so dear, you. My friends, supporters, cheerleaders, fans and second family.

From the days when some of you rang my doorbell looking for Healthy Hair Butter to the day my website crashed because of my first national TV appearance you have always been there for me and you are who I care about. Because of your dedication over the past twenty-one years, I have been able to do amazing things. The nationwide Target launch this past March is an opportunity that very few companies receive. I am proud of that. I am also proud and blessed to have valuable partners, like HSN, Ulta and Sephora inside JC Penney. These partnerships have enabled me to distribute Carol's Daughter in over 2,500 stores and on direct TV which is far beyond the reach of my living room in Brooklyn.

I am going to live through this bad headline knowing that our brand is as strong as ever…and right now I have to get back to work."
Thoughts?
Photos: Jada's FB/Lisa's FB