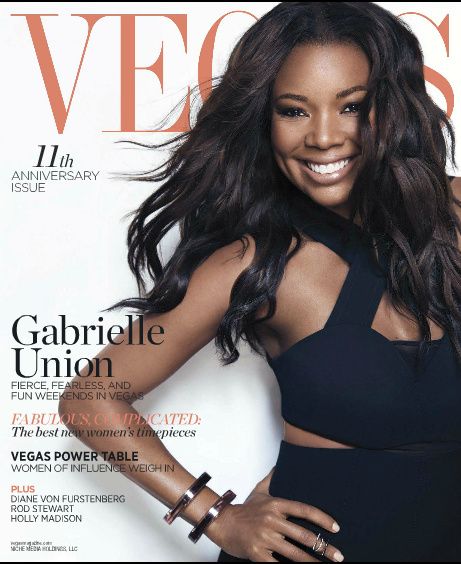 Gabrielle Union is looking gorgeous on the cover of the 11th Anniversary issue of VEGAS Magazine. Plus, Shantel Jackson has responded to Floyd Mayweather Jr.'s most recent IG antics. Check the spread and find out what Miss Jackson said inside…
"Being Mary Jane" and Think Like A Man actress Gabrielle Union is gracing the cover of the May/June 2014 anniversary issue of VEGAS Magazine.
Gabby opened up in a candid interview with the magazine revealing wedding deets for her upcoming nuptials to fiancé Dwyane Wade, how she felt isolated growing up, she opened up about taking pride in other people's pain and loving the family she didn't plan but couldn't go a day without.
Here are the highlights:
On Dwyane Wade being a "groomzilla":
"Well, it will be smaller than the one in the movie, but it's definitely not toned down, per the wishes of my groomzilla. D's very involved in every detail. My dude is having a princess moment. Me? I did the wine tasting, and I've said yes to the dress. In fact, I've said yes to a few of them. That's the joy of getting married to a man who loves

On feeling isolated growing up:
"My dad told me, 'You gotta be bigger and badder and better than the next woman, just to be considered even.'" As one of just a handful of African American girls at her high school in Pleasanton, California, she grew up feeling isolated. "I felt like I had to become a chameleon," she says, acting one way with her white friends and another for people in her community. "Even as a popular girl, I was always looking through the window and very afraid of being exposed. I just wanted to assimilate and fit in."

On being a mean-girl:
"We live in a town that rewards pretending," Union said. "I used to revel in gossip and rumors. I lived for the negativity inflicted upon my sister actresses, or anyone whose shine I felt diminished my own. I took joy in people's pain, and I tap-danced on their misery."

On her blended family:
"We were at the construction site in Miami where we're building our dream home—aka the money pit," she says. "I was wearing my Prada combat boots, no makeup, and D had a videographer recording the whole thing. I went from no kids to D getting full custody, and the next day we had a full house. So it was instant. Our lives never skipped a beat. When you're someone who goes from never having thought about birthing her own babies to a ready-made family that has immediate needs and wants and desires, your life takes a back burner. If I were lucky enough to have one come out of my body, then great, I'd be totally open to that. But D's kids are more than just part of the wedding. They are part of my life. They're a package deal."

On her life being a process:
"Still, I make mistakes," she admits. "And my life is in process. But I know certain things. I feel a responsibility to the people I work with. So I don't do late. I don't do bad attitude. I don't do 'Those eggs aren't right.' You don't fall out. Come prepared. You be a decent human being. And it's like Will Smith told me: 'Family first.' Nothing comes before family."
See the photoshoot below: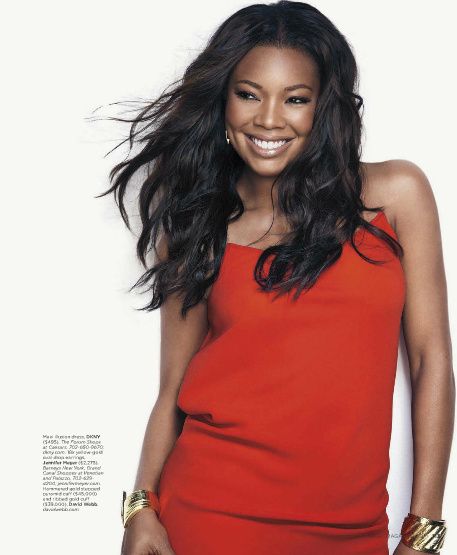 Dress: DKNY; Earrings: Jennifer Meyer; Ring & gold cuff: David Webb.
Top & skirt: Jonathan Simkhai; Necklace: Anndra Neen; Pearl cuff, Vita Fede; Silver sandal: Casadei
Dress: Donna Karan New York; Necklace: David Webb; Yellow-gold asymmetric ring: Yael Sonia; Brass cuff: Anndra Neen; Sandals: Casadei
Check out the full interview here.
Also...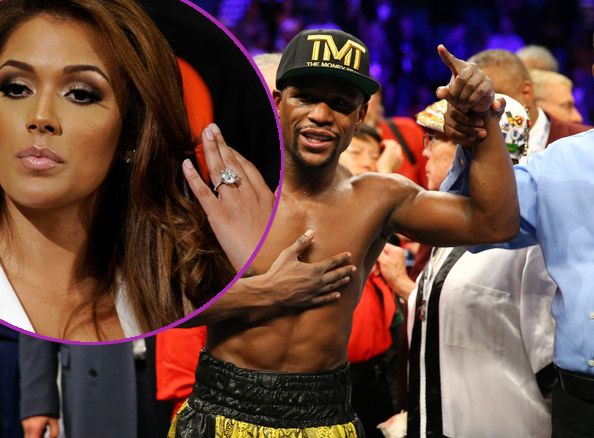 After Floyd Mayweather but his ex-fiancee Shantel Jackson on FULL blast earlier today, Miss Jackson is finally responding.
Floyd took to his Facebook this morning and revealed a shocking revelation on why he broke up with his ex. He claims they headed down splitsville lane after she aborted their twins, posting a picture of the unborn babies' sonogram.
To make matters worse, he then took to his Instagram account throwing jabs at Shantel for "Throw Back Thursday" posting pictures of her pre-plastic surgery that he allegedly paid for.
Now Miss Jackson has responded. She posted:
Sighs...these two.
Photos:Randall Slavin/Shantel's IG