Well here's a twist. Jay Z just signed NBA draft prospect James Young to Roc Nation Sports.  Also, Ray Rice has entered a not guilty plea for allegedly knocking his fiancee-turned-wife unconscious. All the deets inside…
When we spotted former University of Kentucky shooting guard James Young sitting courtside at the Barclay's Center for the Brooklyn vs. Toronto NBA playoff game next to Rihanna (with her nipples on full display) it left us wondering …why?
Now it kinda makes sense. Jay Z just signed the 18-year-old draft pick to his Roc Nation Sports roster, joining WNBA player Skylar Diggins. James is currently projected to be pick #15 in the first round of the 2014 NBA Draft.
James played on Drake's fave NCAA team (University of Kentucky) and Drizzy was also spotted rocking his custom-created James Young logo jersey at the NCAA championship weeks ago.
So...are Jay & Rih trying to get under Drizzy's skin? You know, Drake and Jay have been going back-and-forth on wax recently. Jay's latest jab at Drizzy was on DJ Khaled's"They Don't Love You No More" rapping, "Wrong sports, boy, you know you soft as the lacrosse team"
 
And there have also been unconfirmed rumors that RiRi & Drizzy have cooled off their unconfirmed relationship.  Guess Jay is winning…for now.
And in other sports-related news…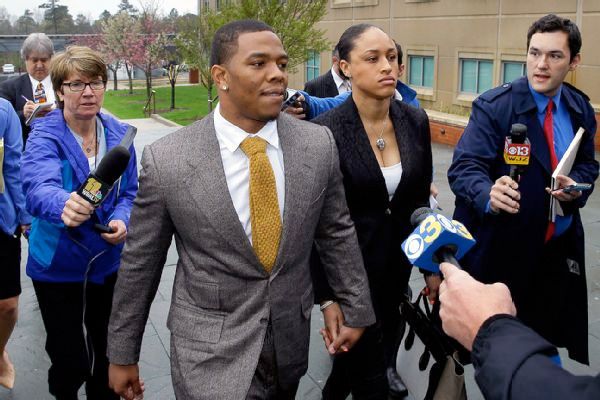 Today, Baltimore Ravens running back Ray Rice pleaded NOT guilty after he was indicted on third-degree aggravated assault charges following a huge brawl with his fiancée-turned-wife Janay Palmer.
Ray also applied for a pretrial intervention program in an attempt to avoid formal prosecution. If the NFL running back is not accepted into the program he will be facing a judge on May 29th. On the flip side......there's a plea agreement on the table for Ray (if he's not approved to enter the program) in which he would receive probation with no jail time and will have to attend anger-management counseling BUT he has to plead guilty.
You'll recall Ray was arrested back in February after a brawl between him and his now wife/child's mother at the Revel Casino and Hotel in Atlantic City, N.J. He was accused of knocking Janay unconscious and there was video footage of him dragging her body out of an elevator. Janay was charged with simple assault but it was later dropped.
Days after his indictment, Ray & Janay conveniently got hitched. Remember she said she didn't want to press charge? Chile…
Since they've married, Janay can claim a spousal privilege where she will not have to testify against her husband (SIDEBAR: they walked hand-in-hand as they made their way in court this morning).
Still no confirmed reports on if Ray will still play in the NFL, but if he is convicted he will likely face a fine or suspension.
Messy...
Photos: Roc Nation Sports' Twitter/AP Photo