ESSENCE magazine turned out three fab covers for their May "Beauty" issue.  See full cover pics of sexy soul goddess Erykah, diva-in-the-making Ledisi and our fave style & hair IT girl Solange inside...
ESSENCE magazine has decided to give shine to the black hair & beauty game that's taken over the culture.  And we mean "taken over" in a good way.
ESSENCE Magazine decorated their May 2014 BEAUTY Issue with three distinctive ladies of soul: Ledisi, Solange and Erykah Badu.  Inside, the ladies star in a profile entitled "On Learning To Love Your Natural Beauty."  And we're already loving it.
Ledisi on her natural hair: "Although I'm known for my long, colorful locs, I still don't take my hair too seriously. "I experiment a lot, dyeing it and constantly switching styles to grab attention. My hair is one of my best accessories and changing it helps express who I am."
Solange on her evolving style: "We all have the option of how we want to express ourselves through our life, hair, style or whatever we decide. We shouldn't be pigeonholed into any one category."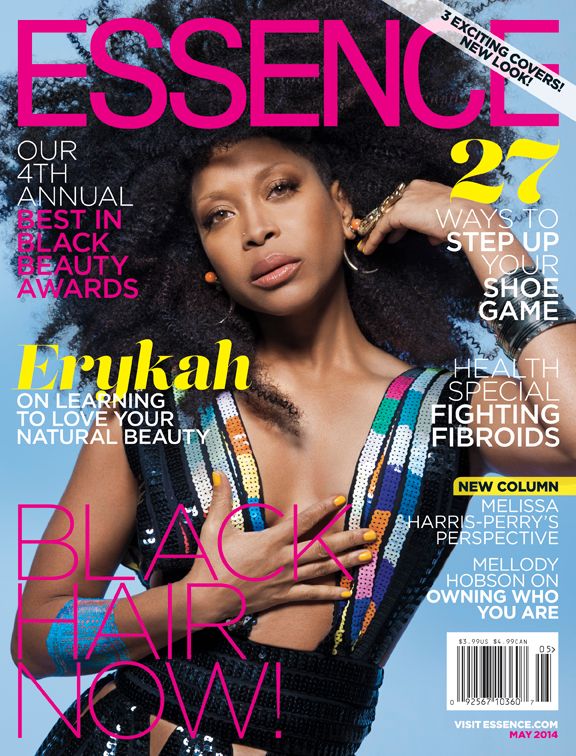 Erykah Badu on hair as art:"I view my hair and clothes as functional art. I'm my own stylist and I love it, but I am not trying to make a statement."
The May 2014 issue of ESSENCE is available on newsstands April 4th.  Love, peace and hair grease..
Photo via Greg Lotus