In honor of New York Magazine's annual yesteryear issue, Jay Z and the late Notorious B.I.G. nab two of the eight covers. Check out the throwback pics inside…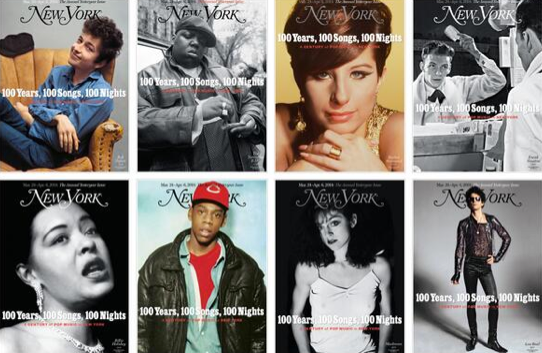 In celebration for 100 years of pop music in New York, Jay Z and the late Biggie graced two of the eight covers (including Billie Holiday, Bob Dylan, Barbra Streisand, Frank Sinatra, Madonna, and Lou Reed) for New York Magazine's annual yesteryear issue.
Hov's cover (above) shows a baby-faced rapper from a 1997 cover.
In the Encyclopedia of New York Pop Music, hip-hop icon Rick Rubin described working with Jay Z on "99 Problems":
Jay-Z asked me to work on a song with him. He was retiring, and he was making what he thought was his last album. He wanted one song from each of his favorite producers and asked if I would do it. That was my first hip-hop song since the early days, and that was "99 Problems." It was really fun. He was incredibly inspiring as a lyricist. We worked on a lot of ideas, and then he honed in on the track that felt most exciting to him. Actually, Chris Rock had the idea for the chorus. It's based on an Ice-T song called "99 Problems," and he said, "Ice-T has this song, and maybe there's a way to flip it around and do a new version of that." And I told Jay-Z the idea and he liked it. The Ice-T song is about "got 99 problems and a bitch ain't one," and then it's a list of him talking about his girls and what a great pimp he is. And our idea was to use that same hook concept, and instead of it being about the girls that are not his problem, instead of being a bragging song, it's more about the problems. Like this is about the other side of that story.
 
And the late Brooklyn rapper Notorious B.I.G. was also featured:
There never was a New York hip-hop season quite like the autumn of 1994, when 22-year-old Bed-Stuy native Christopher Wallace, a.k.a. the Notorious B.I.G., released his debut album. Biggie, who signed with Sean "Puff Daddy" Combs and later joined Bad Boy Records, had been popping up in guest spots.

The songs on Ready to Die gave gangsta rap a New York spin. Like Mickey Spillane, he was a virtuoso teller of hard-boiled street tales, and he was a thugged-out Woody Allen, a classic New York neurotic, stressed by the squad car on the corner, by other hustlers eyeing his loot, by the "everyday struggle." Ready to Die wasn't just a personal triumph, it was a municipal one: a New York reclamation of rap, whose center of gravity had shifted to Los Angeles. Of course, the East Coast–West Coast feud was far more serious than anyone believed; soon, it would claim the lives of both Tupac Shakur and Biggie. But for a glorious long moment, New York hip-hop felt reinvigorated, even utopian.
 
Check out the complete list of artist profiles in the Encyclopedia of New York Pop Music including, Public Enemy, Wu-Tang Clan, Mary J. Blige, 50 Cent and more here. Also, read Jody Rosen's The Town That Put the Pop in Music: A Look Back at 100 Years of New York Sounds here.
Photos: NY Magazine's Twitter