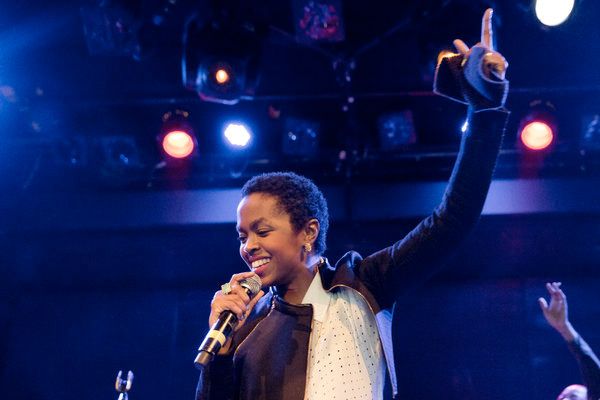 So it seems Lauryn Hill is NOT in trouble with Uncle Sam again and Anita Baker dodged going to jail after an arrest warrant was issued. Find out what Lauryn Hill's publicist had to say about her tax situation and why Anita Baker wasn't arrested inside…
There were reports that former Fugees singer Lauryn Hill was in trouble with the IRS once again, but apparently those reports are false…according to Lauryn's publicist.
Lauryn was sentenced to jail last year and served 3-months for owing Uncle Sam nearly $970,000. She claimed she had "left society" and was no longer in the music business...but intended to fix her tax situation.
RadarOnline reported that they had new tax documents that Ms. Hill still owed a total of $867,000 for tax evasions from 2005 to 2011 and that the IRS had filed another lien against the singer.
 
NOW…Lauryn's publicist is speaking out against those reports and confirms the tax documents are old and that Lauryn does NOT owe any more taxes.
Kathryn Frazier of Biz3 Publicity (Lauryn's publicist) confirms:
Contrary to media gossip (fact checking seems to be a dying art-form) there are no changes in Ms. Hill's legal status. Ms. Hill has finished her sentence, has been fulfilling her agreement with the IRS, and is taking care of all outstanding matters in regards to this situation. She is not in jeopardy of any further charges. The press is reporting on paperwork that had recently been filed, and has now become public record.
Good news!
And in other legal woes…
Legendary singer Anita Baker was reportedly issued an arrest warrant after she allegedly skipped out on a court hearing over a lawsuit filed against her by a house painter.
TMZ reported a Detroit judge withdrew a warrant, which would have sent Anita to jail, after her lawyer pleaded on her behalf that she was never served legal documents regarding the lawsuit.
Apparently, a house painter filed a lawsuit against the singer after he claimed she did not pay him for the work he had done. Anita allegedly didn't pay him because his work didn't meet her expectations, so he sued.
The Grammy Award winning singer missed the first court hearing for the lawsuit, which resulted in a default judgment in the painter's favor. A second hearing was scheduled in which Anita was a no-show and an arrest warrant was issued.
The "Caught Up In The Rapture" singer took to her Twitter to address the lawsuit drama tweeting:
As of 11am this morning. The Fraudulently Obtained Warrant??? ... is Gone. Dismissed. sO Many. Held me sO Close..."SO Grateful :)" ab

Grateful to Judiciary & Law Enforcement, who waited for "The Facts" before proceeding.
Anita's lawyer will fight for her in court next month in an attempt to reverse the default judgment based on the fact that Anita never received the lawsuit.
Good for her.
The Randomness:
1.Judge Joe Brown was ARRESTED for contempt of court! STORY
Photos: Chad Batka/The New York Times/Anita Baker's Twitter