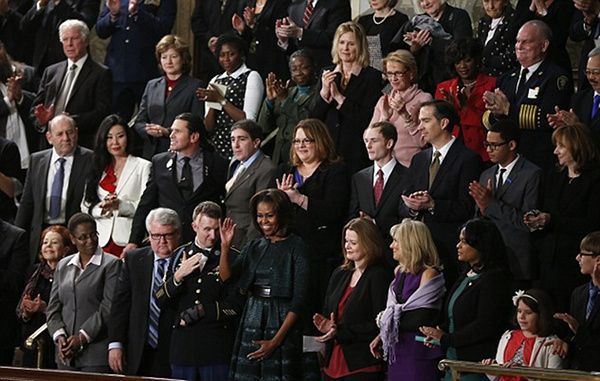 Tonight at the State of The Union speech, FLOTUS Michelle Obama kept it chic in a glistening green Azzedine Alaia ensemble.  Get a closer look at our stylish First Lady inside...
In a two-piece ensemble consisting of a forest green dress with a matching forest green cropped jacket, First Lady Michelle went a little more conservative than usual.  But she made sure to keep a stylish flair with the hot jewel color of the season and sheerish paneling: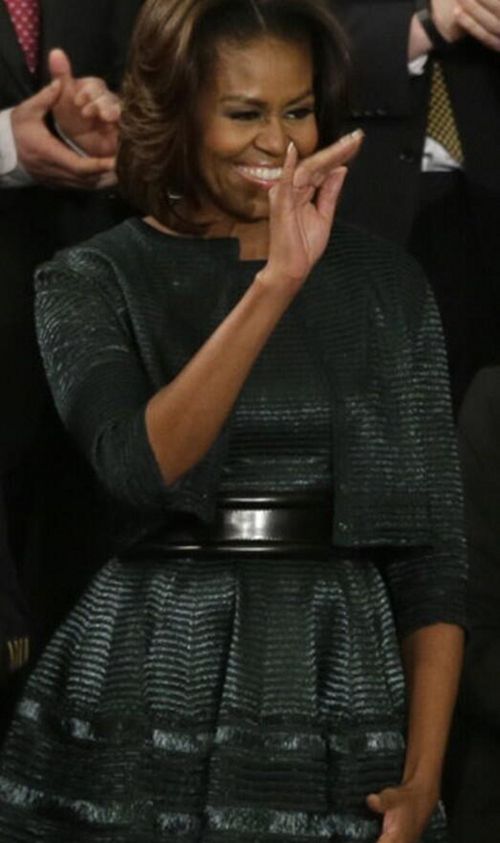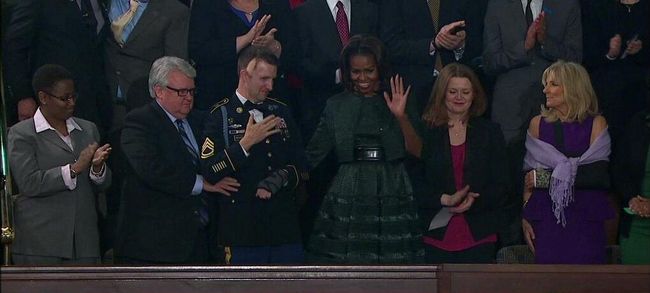 The fabulous 50-year-old Mom-In-Chief welcomed several everyday heros, business owners, mothers and service men into her VIP box inside the House Chamber.  Even Jason Collins, the first openly gay NBA player in the league, was one of her guests.
And her Presidential husband Barack Obama gave a moving speech, mentioning the amazing work she's done with the Let's Move campaign.  He told Congress, The Supreme Court Justices, his Cabinet and the American people tonight:
As usual, our First Lady sets a good example. Michelle's Let's Move partnership with schools, businesses, and local leaders has helped bring down childhood obesity rates for the first time in thirty years – an achievement that will improve lives and reduce health care costs for decades to come. The Joining Forces alliance that Michelle and Jill Biden launched has already encouraged employers to hire or train nearly 400,000 veterans and military spouses.

Taking a page from that playbook, the White House just organized a College Opportunity Summit where already, 150 universities, businesses, and nonprofits have made concrete commitments to reduce inequality in access to higher education – and help every hardworking kid go to college and succeed when they get to campus. Across the country, we're partnering with mayors, governors, and state legislatures on issues from homelessness to marriage equality.
Nice!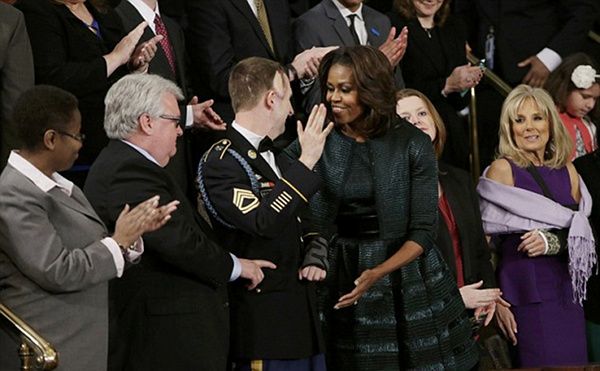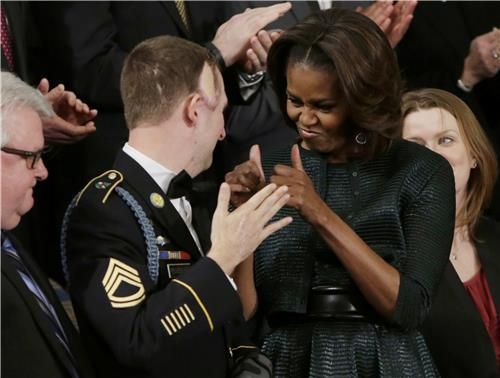 Loves it.
BONUS: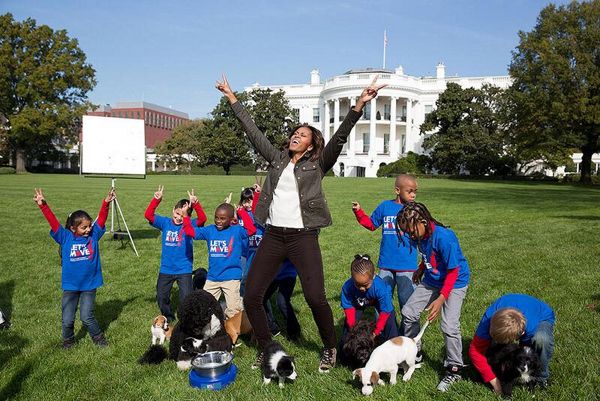 Could this GET any cuter?!  Ahead of this Sunday's Puppy Bowl on Animal Planet (you know, the annual cutesy alternative to the Super Bowl), First Lady Michelle and kiddies from Harriet Tubman Elementary School in D.C. welcomed the competing pups to the White House.  And they all helped to get the adorable doggies pumped up in a "training session" ahead of Sunday's festivities. 
"It was so much fun to see the Puppy Bowl X Team work out at the White House!" said First Lady Michelle Obama. "This year's pups showed us that getting active and lapping up plenty of water are important ways to keep our bodies healthy and energized. And as our family has seen with Bo and Sunny, going outside to walk and play with your pet is a perfect way to get moving and have some fun every day."
During the Puppy Bowl (it's in its 10th year), folks can watch cute doggies from animal shelters run around a mini playground being their cute selves.  And viewers have the opportunity to adopt the pets participating.  It airs at 3p ET.
Loves it!
Photos: Getty/Reuters/AP