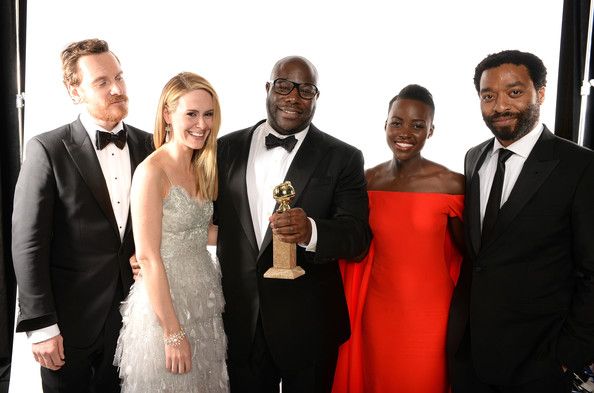 A few of our fave YBFers just nabbed MAJOR Oscar nominations!  Details inside....
It's going to be a fabulous 2014 Oscars! The Butler was totally shut out, just like the Golden Globes (not even cool). And Idris Elba (Mandela), Tom Hanks (Captain Phillips) and Oprah (The Butler) got snubbed.   But those who did land nominations are totally deserving.
Moments ago, the nominations for the 86th Annual Academy Awards were announced inside the Academy's Samuel Goldwyn Theater in Beverly Hills.
And the movie 12 Years A Slave grabbed an amazing 9 nominations, including a Best Director nomination for Seve McQueen and a Best Picture nomination for the film.  Since the epic movie has already won the Golden Globe for Best Motion Picture Drama, they're indeed the favorite for the category. 
Chiwetel Ejiofor landed a major nomination for Best Actor for 12 Years A Slave as well.  And his co-star Michael Fassenbender is up for Best Supporting Actor.
The belle of Awards season, Lupita Nyong'o, landed a nomination for Best Supporting Actress.  Her competition includes Jennifer Lawrence and Julia Roberts....so it'll be a tough one since we all know how the Academy loves those two.  Totally pulling for Lupita as she nailed this powerful role in her very first movie ever.
Pharrell was one of the nomination surprises.  He nabbed a Best Original Song nom for his track "Happy" in Despicable Me 2.  Nice!
And another first time actor, Barkhad Abdi, landed a Best Supporting Actor nomination for his spine-chilling performance in Captain Phillips.  He's the Captain now. 
Congrats and good luck to the YBF folks!  The Oscars air live on ABC on March 2nd at 7pm EST.
Check out the full list of nominations HERE.
Photos: Getty