LaLa Anthony and her NBA baller husband Carmelo are the cover couple for EBONY Magazine's Valentine's issue. And so is Hollywood couple Nick Cannon and Mariah Carey. Check out the reality star cosmetics queen steam up the photoshoot with the Mister, and the diva and the man with 10 jobs do what they do best inside...
This may look like the cover of a Harlequin style romance novel, but we're just happy to see somebody new on one of these mags. LaLa and NY Knicks baller Carmelo Anthony are showing off their love for Ebony's Couples Issue. And we're sure the Motives makeup guru LaLa will be dishing her relationship advice in the cover story, all for promotion of her first book, The Love Playbook: Rules for Love, Sex, and Happiness.
The couple has been married for three years and together for over a decade (including some recent rocky times they made it through). So we're sure they have some good advice to dish up to the masses.
When asked what ignites their love and how they maintain the passion in their relationships, the twosome said:
"There were people coming in and out of my life, and I didn't really know whom to trust. She was one of the people who stood by my side through thick and thick. Even to this day, she's always right there."
–Carmelo Anthony
"…We knew no matter what, we wanted each other. We needed [to be] in each other's life, and that's what's been able to sustain this relationship all those years."
–La La Anthony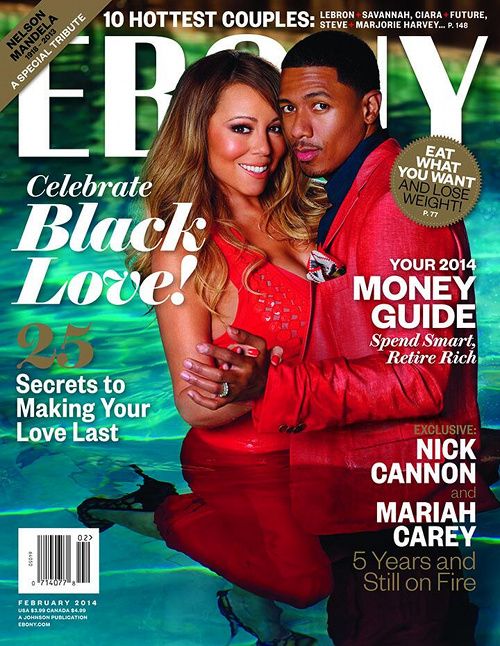 But the Anthonys aren't the only cover couple. Nick Cannon and Mariah Carey are on a second cover posing it up. In a pool. While fully dressed. Including shoes. Gotta love them. Reportedly, the two hard workers are dishing in their cover story about their 5-year marriage and Dem Babies.
When asked about maintaining their love and passion, they said:
"It was early on when I found out how spiritual she was, and we had conversations about kids and how to live life. For her to share these values, it instantly let me know this is the person I've always wanted."
–Nick
"Having babies definitely strengthened our bond because all the love that you have for each other is manifested into these two incredible beings." –Mariah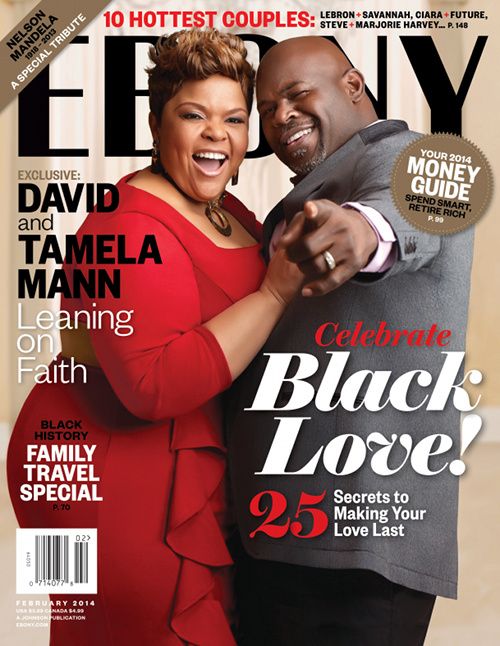 Actors David and Tamela Mann are on the third cover.  And advice from the veteran couple:
"Stay in love because when you're in love, it covers a multitude of fault. Our relationship wasn't based on good sex or having a lot of money. It was based on just straight friendship. That's what has kept us."
–David
"I pray and ask God to keep my heart and my eyes burning only for David Mann. I speak his name in my prayers, because I want the desire to stay, so when he touches me, I get chills."
–Tamela
The issue will be available on newsstands beginning January 7.
The Randomness:
1. Dennis Rodman lost it while defending traveling to North Korea, with former pro NBA Ballers, to play basketball. Story