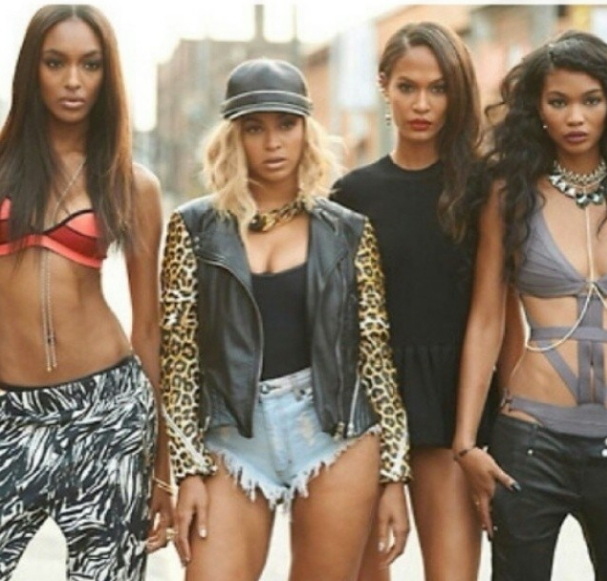 The latest official video release from Beyonce's hit visual album is "Yonce" featuring Chanel Iman, Joan Smalls and Jourdan Dunn.  Watch it inside....
Director Ricky Saiz paired Beyonce with three of the most sought after models in the world (Chanel Iman, Joan Smalls and Jourdan Dunn) for "Yonce", the latest visual from her Beyonce album.  She's released the full videos (which are also inlcuded in the album) for "XO" and "Drunk In Love" as well.
During an interview with MTV News, Ricky said he was inspired by George Michael's classic "Freedom" video. "I just tried to bring like a raw, kind of lo-fi, very New York kind of grimy, dark aesthetic to it." Here's how he broke down the video's concept:
On voyeurism and erotic sexuality

"It wasn't necessarily a fashion-driven video. I had very clear ideas of the aesthetic I wanted to bring. With themes of eroticism, leather and fishnets and close-ups and the stylist [Lysa Cooper] just really came through. [The singer] was very, very open. And she liked it and I think we made some memorable looks."


On Joan licking Beyonce's chest


"We were going through takes and it was her and Joan and they were close. And Joan went for the lick and we got it."


On Beyonce playing the role of a madam


"Beyoncé actually never sings in the video. She almost plays like a madam character and the girls are doing the performing for her in a sense. I think they are so important individually and have their own characters and they each really brought that to the set... [It's] almost like this just happened and we were there with our cameras."
Joan tweeted, "What an experience with the one and only @beyonce with my girls #SlayingIt #Yonce #MusicVideo #Dope #History #TellMeHowitsLookingBabe"
Watch "Yonce" here:
Photo via Joan Smalls Instagram