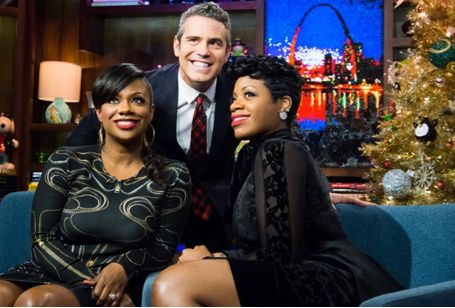 Sigh.  Where do we begin?  After Mama Joyce's foolywang behavior on last night's episode of "RHOA", Kandi Burruss went on "WWHL" to chop it up with Andy Cohen and Fantasia about where she and her mom stand now.  MUCH to discuss.
Check out recaps inside....
So Kandi got all emotional when speaking about why she won't put her foot down when it comes to demanding rspect from her mother, Joyce.  And apparently, she hasn't done so with her aunts either.  They took over last night's episode like the Golden Girls division of the Crips & Bloods.  Straight bullying and fighting...or at least attempting to.  And then lying about it. (That recap is below.)
When Kandi hit the "WWHL" club house last night, a caller asked her the obvious question we all know the answer to.  A caller wanted to know if Kandi thought her mother was being so overly judgmental, rude and disrespectful with Todd because she's concerned about how much of Kandi's money SHE will now have access to, Kandi acted like she didn't understand the question.  Of course.
She went into defense mode and broke down in tears saying that she will always take care of her mom because her mom took care of her.  She further revealed that even though her mother isn't speaking to her right now, she will still always take care of her monetarily.
What Kandi doesn't get is, nobody has an issue with her taking care of her mother.  But many have an issue with the way her mother treats her and her loved ones....ESPECIALLY when Kandi takes care of her.  So until Kandi grows a pair and lays down the law in a respectful way--even if that means giving her mama an ultimatum--she will be single and friendless come 2015 and beyond.  Check the video below:
And if you're wondering if Mama Joyce has found a man of her on finally, Kandi talked about her mom's dating life.  Apparently Joyce is "dating someone right now".  Yeah, we're shocked as well.  Check it:
Kandi also revealed that comment that NeNe's friend Chuck said on last night's episode about Kandi being his "one hit wonder" when they dated....is so not true.  And we'll find out more about it later...
Phaedra called in to the show last night to dispel rumors of her being a "head doctor" after NeNe threw her under the bus on last night's episode saying that's what she was known around school for:
And pics from the club house fun are below:
Kandi rocked an Alexander McQueen dress and Saint Laurent ankle strap pumps.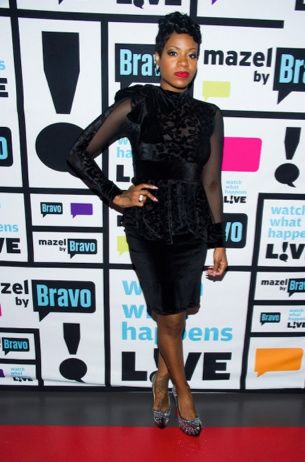 Fantasia kept it chic in a dress by T'Shanell Fashion and Louboutin pumps.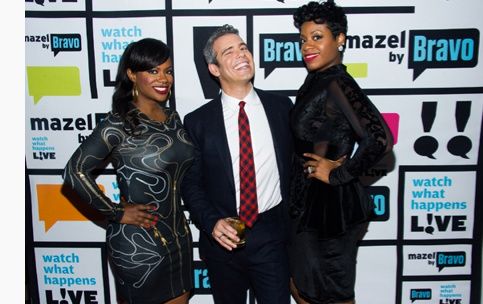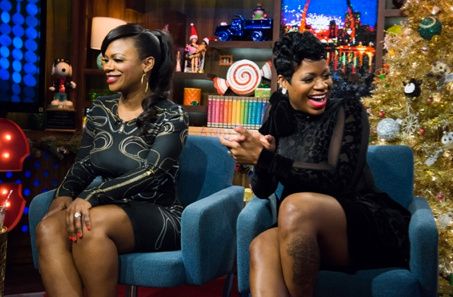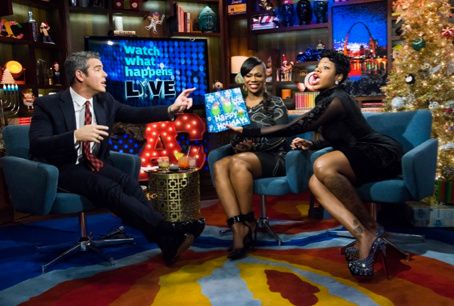 Kandi's also going to be starring in a new musical called NEWSical off-Broadway in Manhattan.
As for MaMa Joyce's foolywang behavior on last night's episode, not sure why we were shocked....but we were.  For whatever reason, she & her sisters (Kandi's aunts) showed up to Kandi's first wedding dress fitting even though none of them support Kandi and Todd getting married.  The first comments out Joyce's mouth were, "Well she aint gonna wear the dress anyway."  Ugh.
It's one thing to not support someone's marriage.  It's totally your perogative.  But why show up to a dress fitting purely to shower it with negativity?
When Mama Joyce jumped up to go at Kandi's best friend who was there to SUPPORT (who she is randomly convinced is sleeping with Todd), things got ugly.  She attempted to throw her curtain covered clog at her head, but was being held back....by Kandi's guy friend (and her own strength).
The unnecessary actions worsened when Kandi came out and saw her mother going off, and believed the lies her aunts told that the best friend got up and jumped at THEM first.
Watch the foolery unfold below:
The only things we garnered from this: Kandi's mama and her rat pack are ratchet and really doing the most.  And we now know where Kandi gets her unique way of speaking...
Photos: Bravo