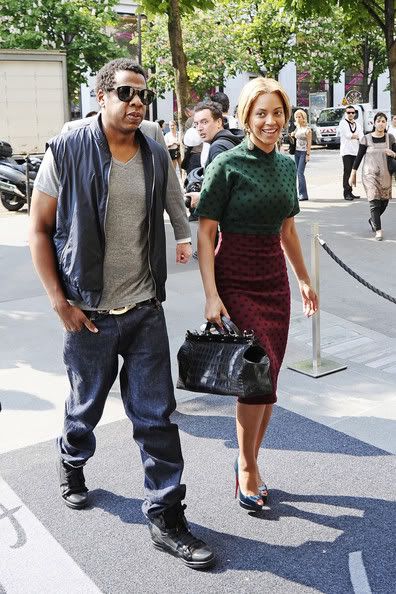 Since the announcement of her pregnancy, it's been revealed that Jay-Z and Beyonce have gone partially vegan. Get the deets on their new lifestyle inside and hear Lady Gaga sing the praises of Watch The Throne while talking to Steve Stoute about The Tanning Effect and how it changed her music.
Jay-Z is clearly a "hands-on Dad" having adopted his wife Beyonce's eating habits since her pregnancy. 
A source close to the couple revealed to US Weekly that since Bey's pregnancy, the couple are maintaining a "partially vegan diet."  The source said,
"Jay's trying to be disciplined, and he needs the energy to support her."
Clearly the vegan diet is giving them a lot of energy as the couple were recently spotted "dancing up a storm" at The Spare Room at the Hollywood Roosevelt.  "They were loved up and sweet together [and] partied until 4 a.m." the source said.
Also in music...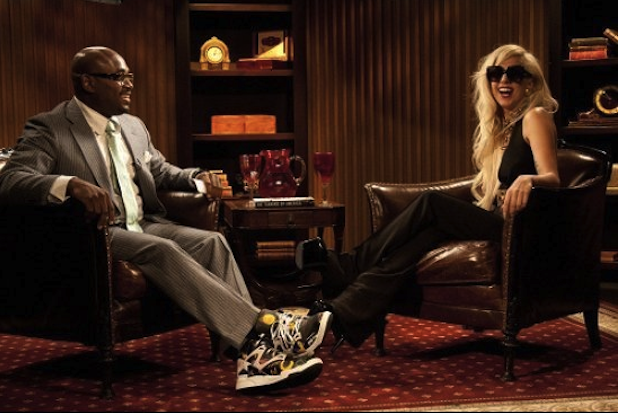 In the latest edition of his series "The Tanning Effect" best-selling author Steve Stoute talks to Lady Gaga about the global impact of hip hop and how it has inspired her.
Lady Gaga on what's on her iPod:
I listen to a lot of heavy metal and a lot of old rock & roll and glam music. But actually recently I've been listening to the new 'Ye and Jay record [Watch The Throne] kind of on repeat. I love it. Not only do I love the music—and I've always felt that Jay-Z and Kanye [West] are ahead of their time…the video for "Otis" is just something so incredible about the fact that they took this car [and destroyed it]. Years ago they would've shined the Maybach up, waxed it, shined a beautiful light off of it, and would've heralded the newness, and expensiveness, and the luxury of the vehicle. And yet, they walk in, and they fuck this car up, and it's all about saying, "Hip-hop has changed and we're moving in a new direction."
On hip-hop's influence on her music:
I think it was always the lifestyle of hip-hop, the sort-of celebration of decadence is the cherry on top of success. After you eat shit in the industry for so long, once you make it to the top you bring all of your friends with you and you celebrate. That was always my favorite thing about my favorite hip-hop artists. In fact, it influenced me so much that when I would be interviewed early on in my career about my success&amdash;and I would be so confident about it, so forthright about it—people would say, "Well, she's this female pop singer. She's from New York. She's [22 years old]. Why is she talking like that?" But I was raised through music watching and idolizing these people that come from the streets or worked from the ground up. I thought, "Well, if you really worked for it—which I did—you should emulate that sort of gratitude."
On transcending race, age, and sexual orientation:
The most basic thing I can say is that there's nothing exclusive about what I do; nothing exclusive about the music; nothing exclusive about the approach; nothing exclusive about who's invited to the party. Everybody's invited to our party. There's really no group or lifestyle that I don't sing about. In a way, it's the inclusion of all types of people to come together and get to know one another that's sort of the greatest thing about the Monster Ball.
The Randomness:
1. Etta James is terminally ill.  Story.
2. Britney Spears is engaged! Story.