Kanye West continues to use put his publicity tool for his benefit.  And this time, it's for his upcoming video for "Bound 2".  Check out what to expect inside, plus new music from Chris Brown& K. Michelle....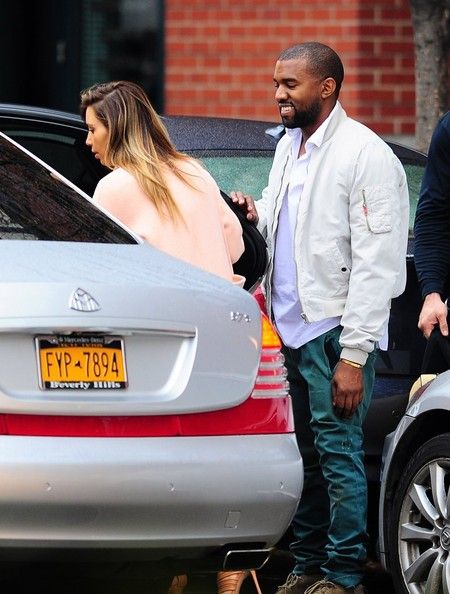 After hitting the streets in NYC on Monday (pictured above), Kanye and his girl Kim K. are gearing up for another PR event--the new "Bound 2" video off the Yeezus album.
The new video, which is directed by Nick Knight, premieres Tuesday on "Ellen", but it's already been leaked that Kim Kardashian will make a "sexy" appearance in the vid.  Of course. 
Us Weekly's source told them: 'Kim looks beyond gorgeous. It's very artsy, very beautiful. The imagery is very colorful and light. Nothing about it feels pop or urban. She looks incredible.'
As you know, Kanye hit Harvard's Graduate Design School on Sunday to give a lecture with his creative director Virgil, all in the name of their DONDA project.  The Hollywood Reporter says 'Ye told students:
'I know there are traditionalists that hold back the good thoughts and there are people [in] offices that stop the creative people and are intimidated by actual good ideas.'

'And I believe, like, utopia is actually possible. But we're led by the least noble, the least dignified, the least tasteful, the dumbest and the most political.'
Oh the irony!
By the way, the couple was spotted chowing down at Wendy's in Philly over the weekend where 'Ye had his tour stop.  Reportedly, only Kanye copped a burger since Kim is doing the Atkins diet for that post-baby snap back.
K. Michelle isn't letting up on that music dropping.  While on her Rebellious Soul tour, she took some time to record a Holiday bundle of two songs for the most magical time of year.  And by magical, when it comes to K., we mean popping off on who you thought was your man because he still ain't acting like sh*t during the Holidays. 
The first song released of the two is "Christmas Night," and the other track that appears in the bundle is a cover of "O Come All Ye Faithful".
Check out K. singing about losing love on Christmas night below:
And it looks like rehab aint stopping his show.
Breezy has released his mixtape called The X Files.  And it's streaming below.  Check it:
No word on the status of the full album with a similar name.
Photos: boogasuga's IG/@KimYeUpdates' Twitter