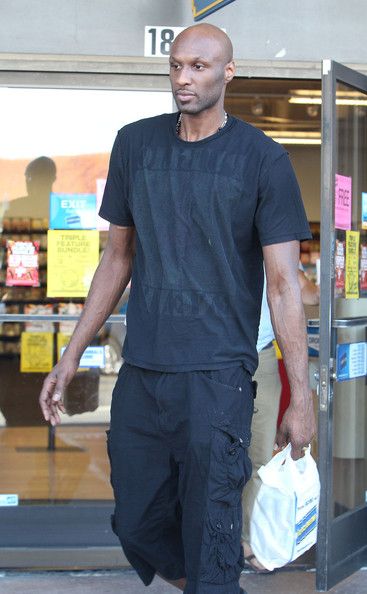 Despite a report yesterday that claimed Lamar Odom had check into rehab, a newer report says Lamar HAS NOT check into rehab and has gone AWOL again.  But his boss, the E! network, is sticking to the rehab story.  Get the convuluted deets inside.....
The Lamar Odom saga continues......
Now that the "demons" of Lamar Odom's life (drugs, DUIs, infidelity) have been put on public display (partially due to his association with the Kardashian machine), we were all very hopeful when PEOPLE published a report that Lamar had entered rehab....FINALLY.
The accompanying article claimed that two sources had confirmed Lamar's enrollment.  One source said, "He realized he needs help." But here's the funny thing, Khloe Kardashian didn't know about any of this, allegedly!  TMZ reports that Khloe has been blindsided by "rehab" news and after a couple of phone calls, TMZ said they COULD NOT verify that Lamar had actually entered a treatment facility.  This could just mean the facility was doing their job and keeping confidentiality....remember that little word?
Also, the site added that the Kardashain Klan does not know of Lamar's whereabouts.  SMH....it's not good for a wealthy alleged crack/cokehead to be wandering the streets.
Let's all hope that Lamar IS in a rehab facility and TMZ and the Kardashians just don't know where to look.   Because his bosses over at the E! network surely believe he is in somebody's rehab.  E! Online put out a story minutes ago saying their sources tell them Lamar is indeed in a facility getting help.  So....we've got competing rehab stories.
Time will tell...
Photo via PCN