Jay-Z took over HBO Friday night with an appearance on "Real Time With Bill Maher" and the premiere of his brand new "Picasso Baby" video project. Check out the vid and a few of his quotes inside...
In a 10 minute video Executive Produced by Jay-Z himself and directed by Mark Romanek, Hov debuted his "Picasso Baby" video project on HBO Friday night. 
The single, which is fresh off his new Magna Carta Holy Grail album, is all about the clashes of various types of art and how a rapper would interpret this.
At the beginning of the video, Jay explains why he shot this video over a 6 hour period inside the Pace Art Gallery in NYC:
"Concerts are pretty much performance art, but the venue's changed. So by nature of the venue, the performance changed. When you're in a smaller venue, you get to feel the energy of the people."

"Today it's kind of an exchange...you have some people trying to back off.  When art started to become part of the galleries, it became a separation between culture, between the hip hop people ad the artists who were like, bourgeois.  We're artists.  We're like cousins.  I'm trying to bring the worlds back together."
Random gallery-goers and his celebrity friends were front and center for the artsy production: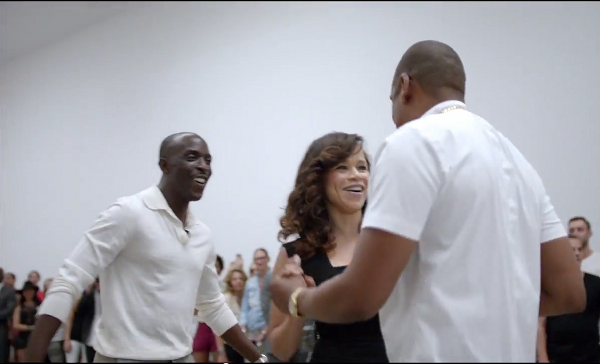 Fashion designers Jenna Lyons and Cynthia Rowley, actors Taraji P. Henson, Rosie Perez, Michael K. Williams, and directors Judd Apatow and Mikalene Thomas all came to support.  Wale, Fab Five Freddy, street dancers, singers and more were also brought up to the platform by Jay.
Check out the clash of art in the full "Picasso Baby" video project below: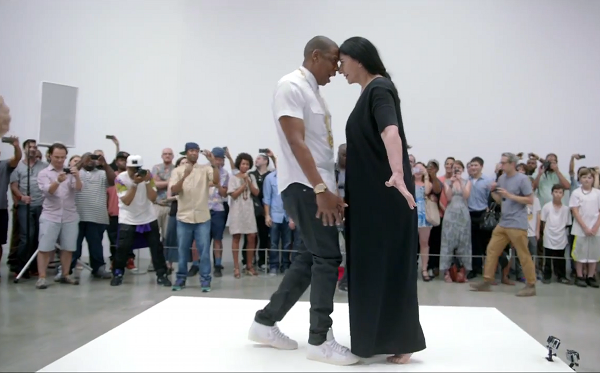 And before the big debut, Mr. Carter stopped by Bill Maher's show "Real Time" to chop it up about music, politics and to generally shoot the sh*t.  And if you're a Bill Maher fan, you know the convo was a comical good one.
Here's a few quotes:
On the drama with Harry Belafonte calling out The Carters & accusing them of not doing enough to help the community:  "I didn't think it was the correct venue. If it was something that was a real problem, I'm not difficult to find. Especially someone of his stature. He can reach out to me and we can have a conversation and we can do some good together. That was sort of a bit grand-standing to me. And I didn't like that. Especially dragging my wife into it. That was a bit of a low blow."
On who would induct him into the Rock and Roll Hall of Fame (he's only 7 years away from a nomination): "Obama."If he's busy: "He'll be alright. He owes me a couple."
On arrogance vs. humility:  "It's overreaction. If you have the audacity to be great or compare yourself to any of the greats that came before you…If you say just like Obama or Picasso I'm this…people will say it's almost like blasphemous. But it's like, what are we doing this for? When you sitting in that chair, you want to be great. You want to be known as the greatest of all time. It's never going to happen if you don't see yourself that way first. You have to envision it first."
On the solution to violence in this country, namely in Chicago: "I don't really want to scare America…but the real problem is there's no middle class.  So the gap between the have and have nots is getting wider and wider.  It's going to be a problem that no amount of police can solve, because once you have that oppression and that gap is widening, this is inevitable that something is going to happen."
 
Here's a clip below: 
You feelin' the "Picasso Baby" project?