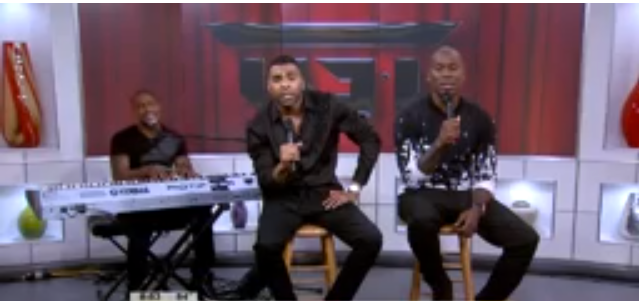 So...what do we have here?  Tank, Ginuwine & Tyrese brought their TGT act to Long Island to perform on the local CBS-WLNY morning show "The Couch" recently.  And some interesting ish transpired.  Mainly, Ginuwine's suspect behavior.  Check out the situation that's causing  controversy around the net....
It's been like, 10 minutes, and R&B's newest boy band guy group seems to already be running into issues.
Maybe it Ginuwine's extra sweaty skin, the bad vocals, the sketchy eye movements, him touching himself, or those deathly side eyes Black Ty kept shooting his way. WE aren't saying he was in that ish. But the Internet streets are saying it.
And it doesn't help that Tyrese posted one of his usual Rants right after. No telling if he's speaking about Giunwine directly. But dude seemed MAD.  Tank and Ginuwine each chimed in with their own jabs....blaming the doomed performance on everyone but themselves.
Judge for yourself below: