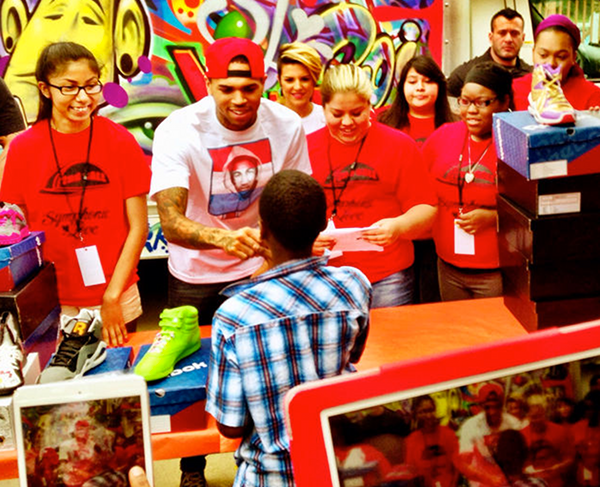 Over the weekend, Chris Brown hosted a massive donation drive where he gave away 1,000 pairs of Reeboks to kids in Compton, Calif.  See pics of Chris at the drive inside and listen to "Love More", his new track with Nicki Minaj.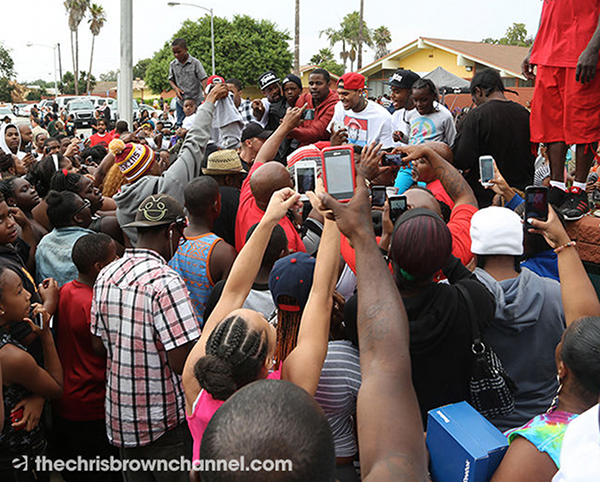 Chris Brown has really stepped up to the plate in terms of his charity work. This weekend, he donated more than 1,000 pairs of Reebok  to disadvantaged children through his Symphonic Love Foundation.  Held at Campanella Park in Compton, Calif, it was the second "WE US: Walk Everywhere in Unity's Shoes" that he hosted this month.'
Chris (wearing a Trayvon Martin tribute tee) was joined by Los Angeles Deputy Mayor Guillermo Cespedes, local youth organizations and the LAPD, who made sure the event was peaceful and orderly.
He tweeted, "WE US! Thankful for all of the people who came together to help give back today! A big thank you to LA Deputy Mayor Cespedes, Skipp, Big U and the LAPD for making this campaign safe and successful!"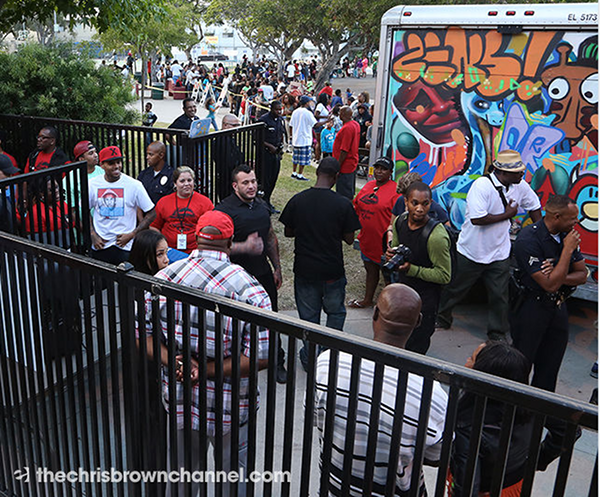 Chris spoke to HollywoodLife.com about the donation saying,
"I grew up as one of those kids who was brought up in gangs and had to be one of the bad kids so to speak. Being able to see the looks on these kids' faces. It's just about uplifting and bringing everybody together."
And in new music....
With Chris Brown's upcoming X album set to drop on August 26, he's released another hot track in support of the disc's release.  In "Love More", the rapper teams with Nikki Minaj for a sexy club banger.  
Chris's forthcoming X disc features Kendrick Lamar, Rihanna, Kelly Rowland, B.o.B., Wiz Khalifa and others, and production from Diplo, Pharrell, Timbaland, Drumma Boy and Polow Da Don.
BONUS:
1.  A New York judge has ruled that neither Chris Brown nor Drake are financially responsible to Entertainment Eneterpises (the company that owns Greenhouse).  EE had previously sued both entertainers for a brawl that occured "near" Greenhouses premises, which they claimed destroyed their reputation.      
EXTRAS: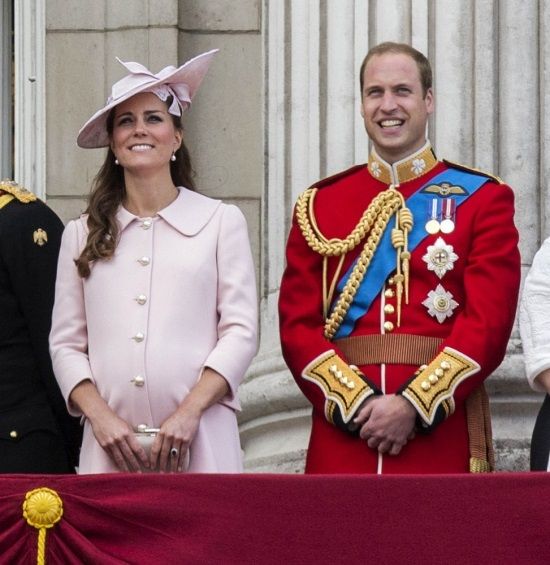 1.   Kate Middleton and Prince William welcomed a baby boy today. An announcement was made by Kensington Palace reading, "Her Royal Highness The Duchess of Cambridge was safely delivered of a son at 4.24 p.m. The baby weighs 8 lbs. 6 oz. The Duke of Cambridge was present for the birth." Story.
Photos via Getty/thechrisbrownchannel.com