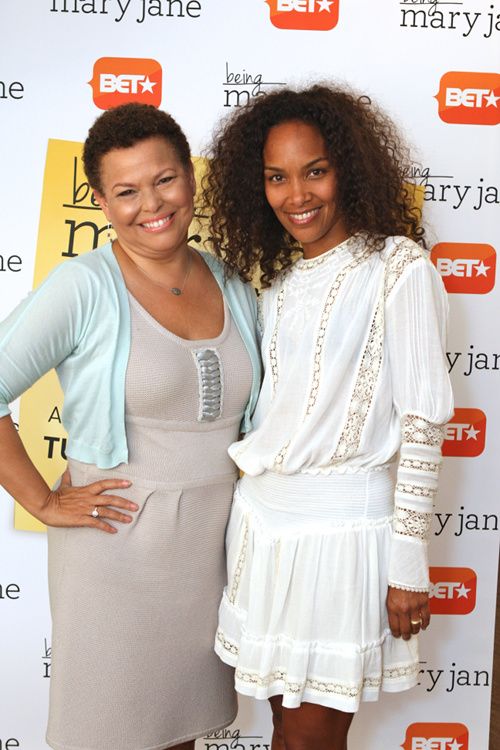 This week, Debra Lee and Mara Brock Akil welcomed a selected group of media to a private screening of the BET-original movie Being Mary Jane starring Gabrielle Union.  And we were inside the room to get the dish about the new tv movie/series.  Find out why Mara handpicked Gabby for the lead role inside....
The fabulous Mara Brock Akil, the creator of the upcoming BET-original movie and series "Being Mary Jane", invited TheYBF.com for a special preview of the film (premiering Tuesday, July 2nd at 10:30P EST).
Though BET CEO Debra Lee kept the Q-n-A short, Mara did reveal why she handpicked Gabrielle Union for the series' lead and she explained that Mary Jane is a woman in control of her sensuality.  Here are the highlights:
Q: What do you want people to take away from the movie?

A: That's a good question and that's hard to answer. I just want to have a conversation.

Q: What's your favorite moment in the movie?
A: It's the moment when she's looking in the mirror and it was so honest.

Q: Was Gabby always your choice for the star role?
A: My husband Salim Akil met Gabby when he was casting for Jumping the Broom (I believed she tried out for a role) and he kept in contact with her. I had my small list of people but she delivered the role.

Q: In one scene, why did she masturbate before she went out for the night?
A: As females, we are sexual beings. Our sexuality ties into our emotions but it's a little pit of PSA and a little bit of reality.

Q: A lot people will compare this to "Scandal", so how do you think Being Mary Jane is different?
A: It's different because in "Scandal" you see a black woman living in a white world. You see a lot of shows with affair and murder plots, but I think it's hard enough just getting through the day.
Agreed!
In case you missed it....watch the "Being Mary Jane" trailer here:
BONUS:
Photos via Chaz Niell