Pop the champagne!  The Miami Heat had a long night last night...and it didn't really get started until afterthey copped their second NBA championship in a row.
Check out the pics inside of their champagne showers in the locker room, pics with Gabby, Sanaa, and more, plus video from their afterparty at Story....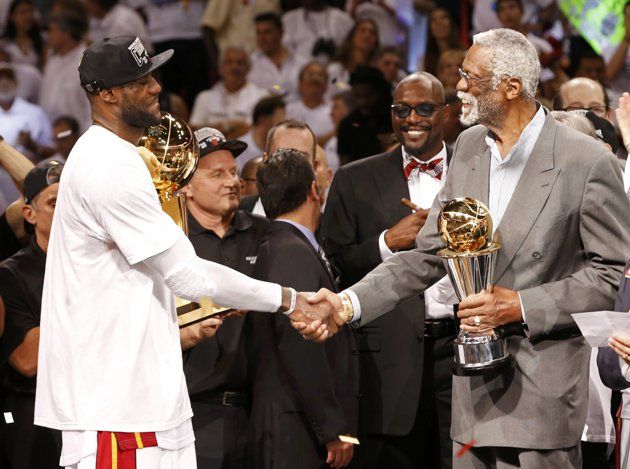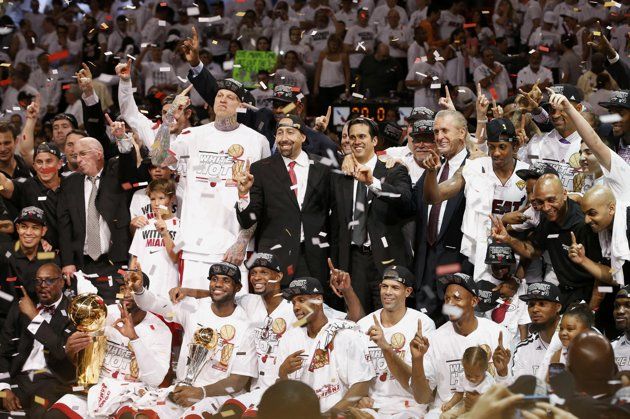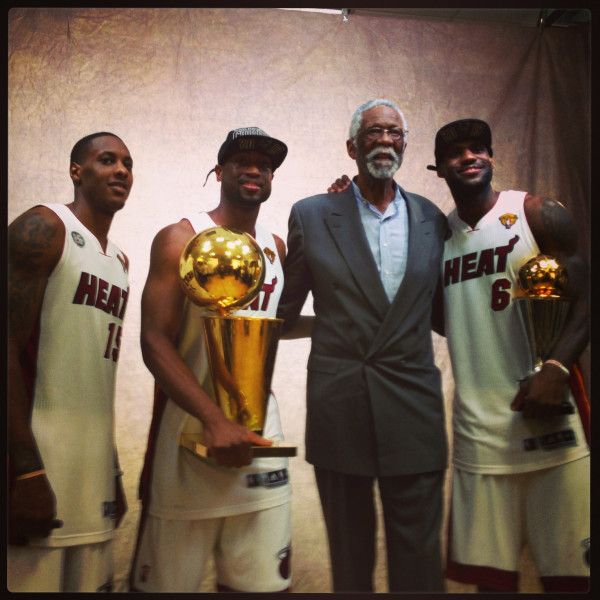 After the Heat snapped team pics with the trophy and LeBron shook hands with Bill Russell before accepting the MVP trophy, the fellas headed back to the locker room for some champagne showers. 
Thanks to the folks at Moët Ice Impérial champagne (fancy champagne actually created to be served over ice), LeBron, Dwyane, Chris Bosh, Ray Allen, Mario Chalmers and the rest of the Champs were greeted in the locker room with 100 rare magnum bottles. And they're the first people EVER to open them!  And then this champagne chaos happened: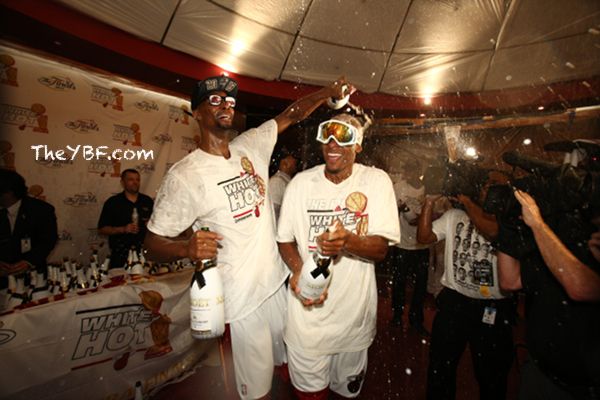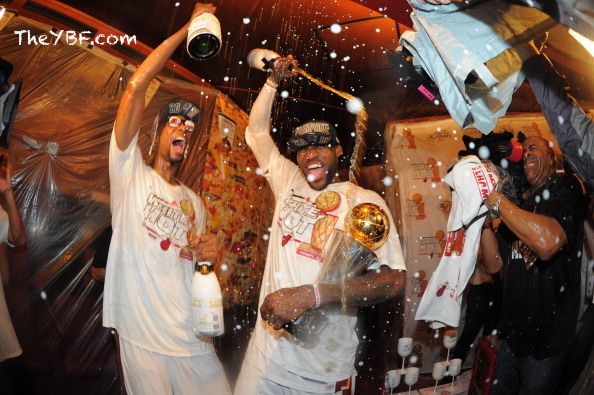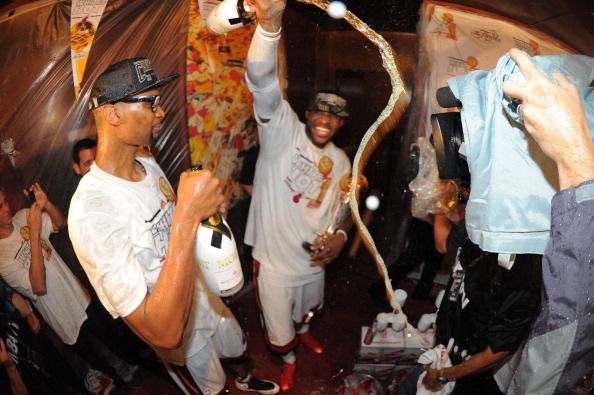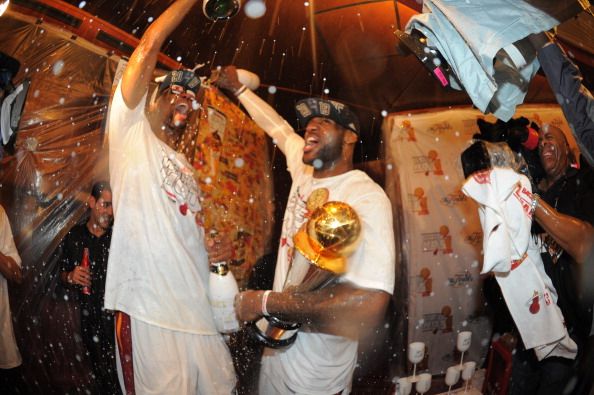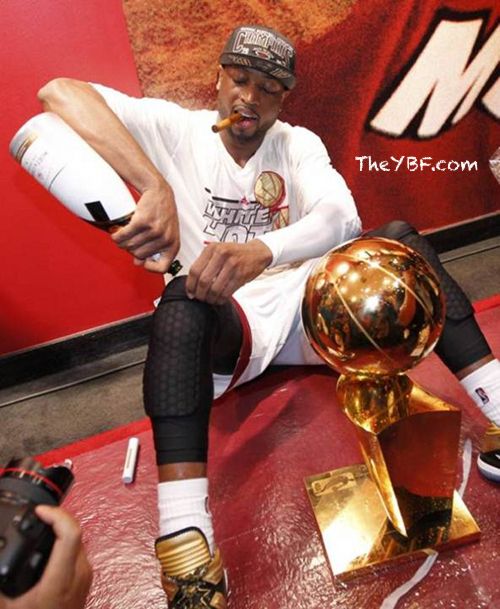 Dwyane was spotted pouring some on his knee that gave him hell the entire playoff season.
Looks like the rumors of Dwyane & Gabby being on the rocks with cheating accusations aren't true (which we checked out and came up with no credible leads).  Because Gabby was front and center at American Airlines Arenas popping bottles alongside her man and her friend Sanaa Lathan.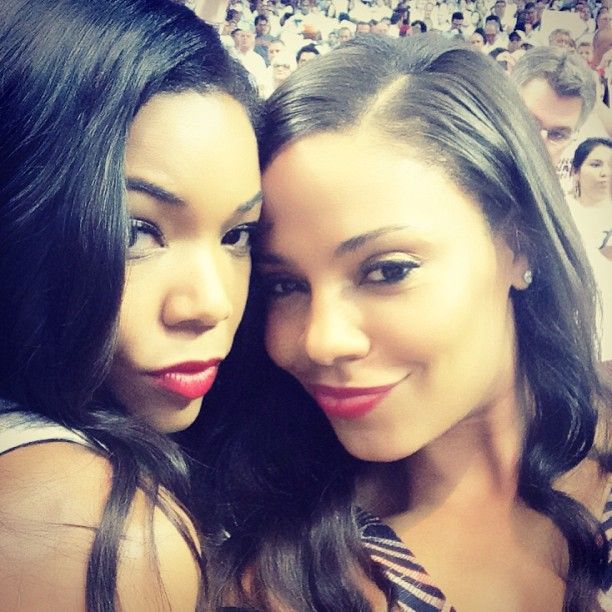 The girls even watched the game courtside together.
Gabby and her Think Like A Man Too cast, including Terrence J., took a private jet to Miami from Vegas for the championship game.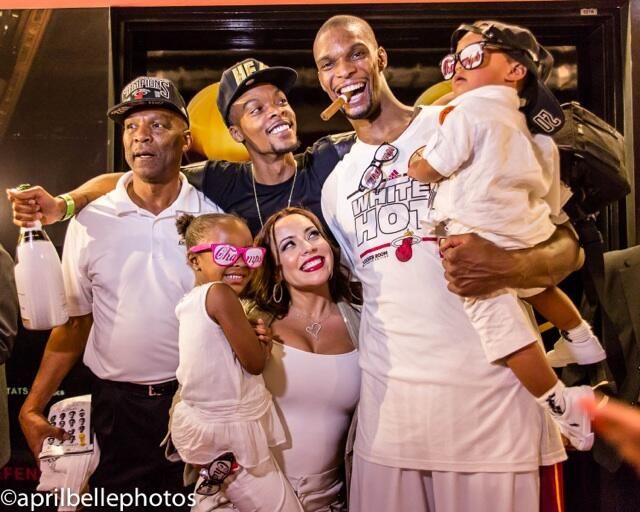 And Chris Bosh posed it up with his fam--his pregnant wife Adrienne, daughter Trinity and son Jackson.  His dad and brother were also there to cheer him on.
And over at the afterparty, Drake, Savannah Brinson, Gabby and more all joined the champs at Story nightclub for a crazy ass night.  Fun times!
Bron Bron's bestie Jay-Z hasn't publicly said anything about the win yet, but his wife surely did.  Beyonce posted on her website: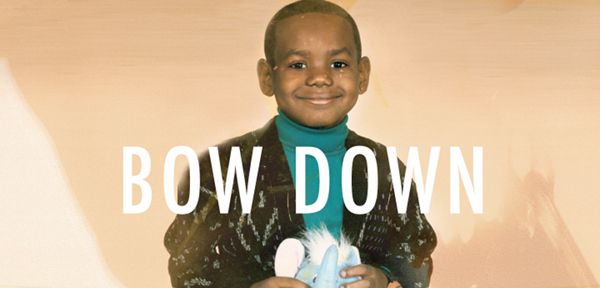 YES LEBRON! CONGRATS ON THE WIN!
Ha!  Gotta love it.
PHOTO CREDITS: Seth Browarnik / World Red Eye, Getty Images/ Andrew D. Bernstein, Getty Images / Andrew D. Bernstein, Getty Images / Jesse D. Garrabrant, Miami HEAT, Reuters, Sanaa's Instagram, Beyonce's website