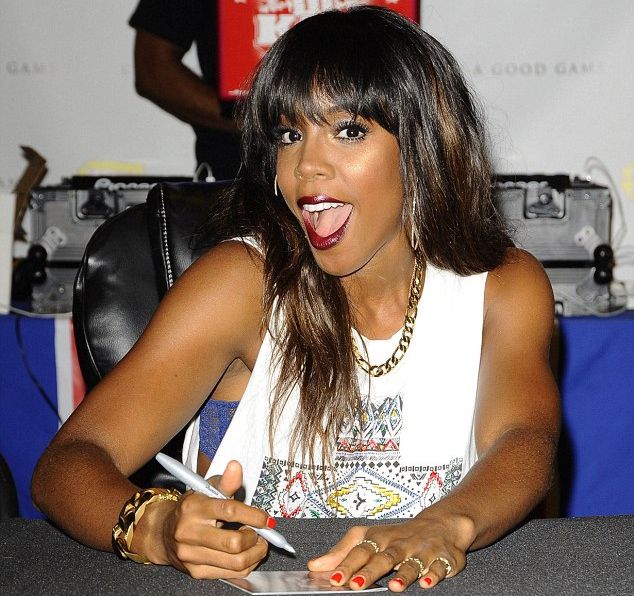 Kelly Rowland is full steam ahead with her promo rounds for her album Talk A Good Game that hit stores Tuesday.  Check out the gorgeous gal signing autographs and getting up close and personal with her fans.  Plus, Nelly's brand new song ft. Ms. Minaj and Skateboard P.
Effortlessly gorge as usual, Kelly Rowland took the stage at the Best Buy in Union Square in NYC on Tuesday to celebrate her album release.  And she rocked cute red leather-like pants, red pumps and a cute Forever 21 (and only $13 we might add) multicolored cross tee for the occasion:
''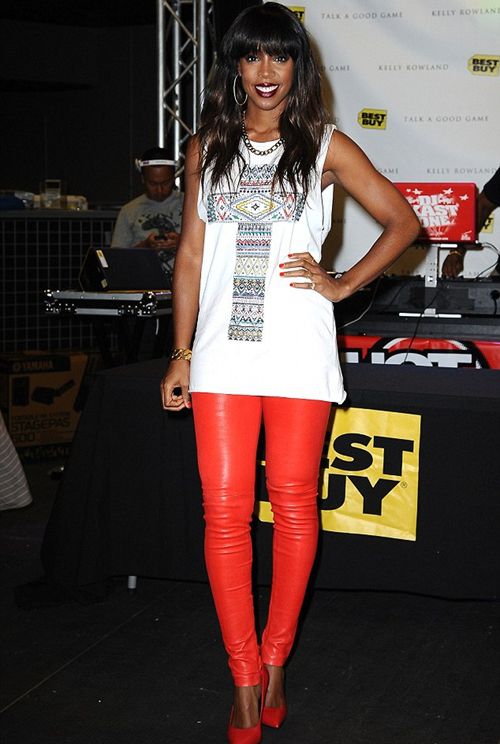 The "Dirty Laundry" singer even had some fun with her fans...rubbing their heads and offering up kisses to the youngest ones in the room.
Adorbs!  The cutesy singer tweeted her thanks saying, "Would like to send a HUGE thank you to all of my #RowlandStones that came to the #TalkAGoodGame album signing at @BestBuy in NYC today! Xo."
Kel, who is also the new "X Factor USA" judge will debut her brand new video for "Kisses Down Low" on Wednesday morning "GMA." Then she's making her rounds to the "Wendy Williams" show to dish on more than a few things she's made headlines for recently.
And in other music news, rapper Nelly is determined to make a comeback.  He performed a remix of his "Crusin" track live on "The Voice" finale Tuesday night with Florida Georgia Line.
Now, he's tapped Pharrell and Nicki Minaj to help him on his new project.  First song up from the trio, "Get Like Me" ft. Nicki & P.  And it sounds a lot like "Beez In the Trap" meets "The Whisper Song."  Check it out below: 
You feelin' it?  Or does Nelly need to take a seat?
Photos: Splash/FAME