Rihanna is back in the news for her Birmingham, UK concert Tuesday night during her Diamonds World Tour.  And this time, it's because she appears to have possibly hit a grabby fan in the face with her microphone.  Video inside...
Obviously, many celebs don't like when fans aggressively pull on their expensive stage clothes or fans who slap their asses during a performance. 
And Rihanna made it known she doesn't have time for folks pulling on her aggressively and holding her back from moving on with her performance.
A video has surfaced, that is labeled as a clip from her Birmingham, UK stop Tuesday night, and it shows Rih Rih taking her mic and hitting an extra grabby fan on the front row.  It all happened when she walked past the front row--with a barricade in between them and with her bodyguards--during one of her songs in order to get closer to the crowd.  But apparently, she wasn't trying to get THAT close.
In the below vid, you can see the "We Found Love" singer pull back and swing her mic at a fan...and reportedly, she aggressively hit the fan in the face:
Some folks say physically aggressive behavior by Rihanna was unnecessary. While others say the fan got what he or she deserved after they got too handsy with the bajan bad gal.
Thoughts?
*UPDATE* If there was any doubt if whether she hit someone, chick confirmed it herself on Instagram saying she did it on purpose because they wouldn't let her go.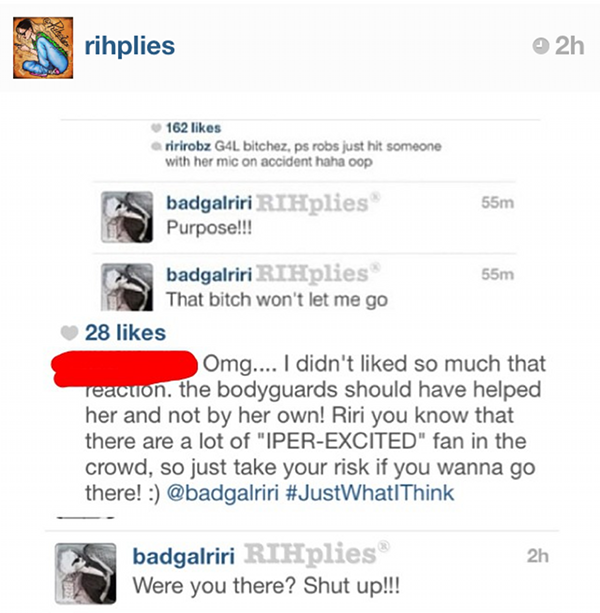 Photos: Youtube/RihPlies' Instagram