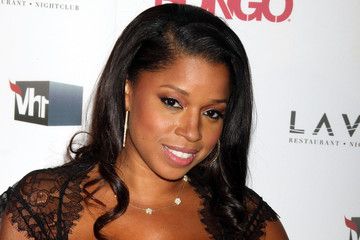 After suffering one of the most painful (and watched) breakups in music history, Mashonda is using her experiences to offer words of advice on creating and maintaining blended families. Get her words of wisdom inside....
Despite enduring one of the nastiest divorces we've even seen (pre-dating Kordel and Porsha Stewart) R&B  singer Mashonda has flourished since we watched her ex-husband marry and impregnate pop icon Alicia Keys.
Though the incident would have made some women crumble, the "Juicy Fruit" singer has thrived since parting ways with Swizz Beatz, and this month, she use her column (via Global Grind) to offer other women advice on doing the same.  Mashonda has created a list of helpful tools and guidelines that can be used for oving on and blended families.  Though her advice, she drives home the ideal that the children should come first.   
Let's Start Here:
"The key to co-parenting is to focus on your children—and your children only.

Yes, this can be very difficult. It means that your own emotions—any anger, resentment, or hurt—must take a back seat to the needs of your children. Admittedly, setting aside such strong feelings may be the hardest part of learning to work cooperatively with your ex, but it's also perhaps the most vital. Co-parenting is not about your feelings, or those of your ex-spouse, but rather about your child's happiness, stability, and future well-being."

Separating feelings from behavior:

It's okay to be hurt and angry, but your feelings don't have to dictate your behavior. Instead, let what's best for your kids—you working cooperatively with the other parent—motivate your actions.

Get your feelings out somewhere else:

Never vent to your child. Friends, therapists, or even a loving pet can all make good listeners when you need to get negative feelings off your chest. Exercise can also be a healthy outlet for letting off steam.

Stay kid-focused:

 If you feel angry or resentful, try to remember why you need to act with purpose and grace: your child's best interests are at stake. If your anger feels overwhelming, looking at a photograph of your child may help you calm down.

Use your body:

 Consciously putting your shoulders down, breathing evenly and deeply, and standing erect can keep you distracted from your anger, and can have a relaxing effect.
Well isn't this grown up of her. We're all about focusing 100% on the kids you share. But no woman has to LIKE their ex or his mistress/jump off turned wife. Loving Mashonda's positivity though... Read more from Mashonda's column here.