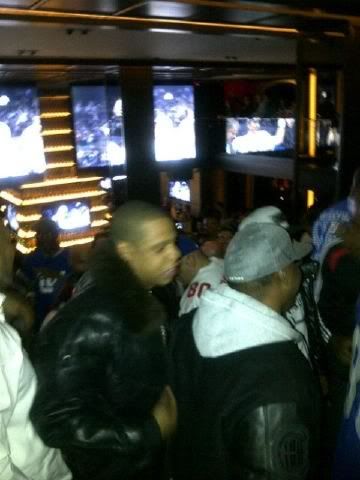 Last night, Jay-Z headed to his own spot, the 40/40 club, to celebrate the NY Giants winning the Superbowl. See the pic inside and see what words Beyonce had for the new NFL Champions.
Jay-Z was spotted at his newly reopened 40/40 club (re-opened again, after it was shut down after the grand re-opening for health code violations) celebrating last night.  He stopped in to celebrate the Giants' Superbowl victory. Meanwhile, his wife Beyonce had some positive words for the winners as she posted their logo and congrats on her website:
Congrats NEW YORK GIANTS!
And her title? "The Year Of Blue!"  It is indeed.
The Randomness:
1. IMG modeling agency signs New York Giants star wide receiver Victor Cruz. Story.