First Lady Michelle Obama joined actress Kerry Washington to help inspire community children to change their lives through the arts recently.  Find out where they went and what they did inside...
First lady Michelle Obama and actress Kerry Washington appeared at Savoy Elementary School in southeast Washington, D.C today as part of the Turnaround Arts initiative of the President's Committee on the Arts and the Humanities.
The program gives grants to low-income schools, in an effort to improve students' overall performance through arts education. Several celebrities have signed on for the program with  Kerry adopting Savoy Elementary and actor Forest Whitaker and actress Sarah Jessica Parker each adopting schools last month.
During her talk, which include a few dance moves, the FLOTUS touted Kerry for her committment to the program and enouraged the school kids to keep striving for success, even when faced with failure and rejection.
"Kerry got a lot of rejections She spent a lot of time developing her craft. She spent a lot of time practicing and working and trying out for things and having people tell her. 'No,' 'No thank you,' 'You're not good enough,' 'You're not pretty enough.' Could you imagine somebody telling Kerry that she wasn't pretty enough, she wasn't tall enough, she was too short? That's all performing is, is rejection. … But when you work hard and you invest thousands of hours in anything, you get better. And that's what you guys are learning here at Savoy."

 
During her remarks, she also thanked Kerry for her level of involvement and called her a "friend". 
"She's not just a beautiful, fashionable, talented woman, but she's real inside, and there is beauty deep inside. The fact that she is flying all over the country but she comes to spend time with you guys, and she does it for real; the fact that she's taken time out of her schedule to come here today, it shows a level of respect for me, of course, and our friendship, but it shows more her love for all of you. So, Kerry, love you, girl. Keep it going. Very proud of you."
And Kerry really threw her hat in the ring with the children...she kicked off her heels and joined the kids on stage for some and dance.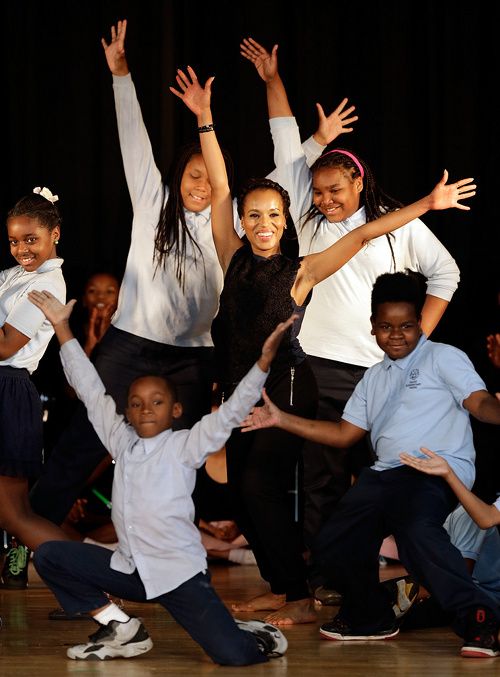 Later in the day, Kerry also read stories to one of the third grade classes.
And a few lucky kids in Jacqueline Lyons' Pre-K Class go to meet the FLOTUS up close, as she spent time doing arts and crafts with the class. 
The First Lady even got the kids on their feet where they freeze-danced to James Brown's"Gonna Have a Funky Good Time."   A funky good time indeed....
Photos via McNamee/Getty Images North America