In the latest issue of "VMAN" magazine, Trey Songz goes shirtless in a black-and-white photoshoot by Bruce Weber.  Inside, he talks to supermodel Selita Ebanks about his upcoming album Chapter 5, his Angels with Heart foundation, and gives advice to kids who are being bullied.  See the highlights inside.....
27-year-old rapper/singer Trey reminds us of his sexy while rocking nothing but a Rafaelo & Co. necklace, an Audemars Piguet watch, and his own bracelet and earring: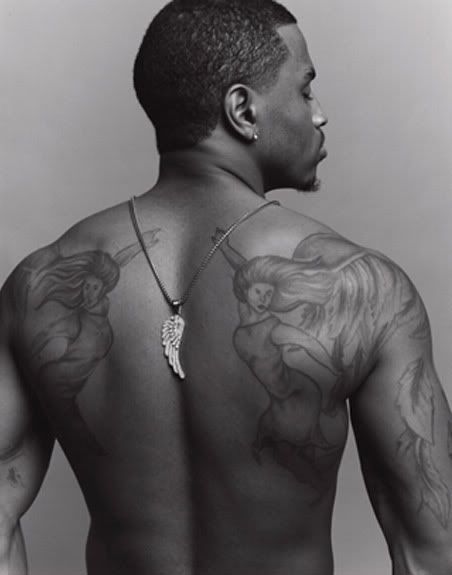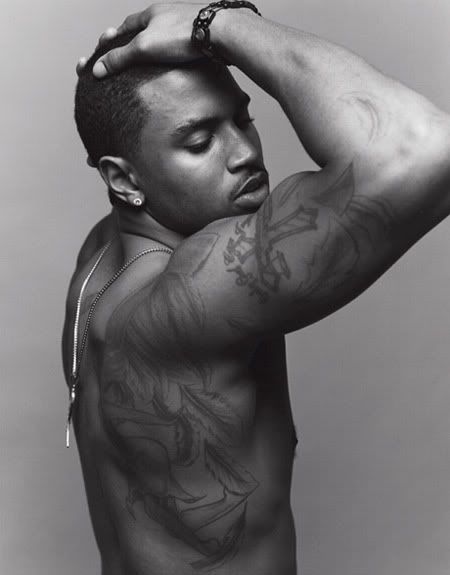 In the latest issue of "VMAN," Mr. Steal Yo Girl was interviewed by model Selita Ebanks for a candid interview that covered his new album, his charity work and what he thinks about bullying.  See the highlights here:
SE The world has heard four albums of your seductive voice, and Chapter 5 brings some new Trey "Songz." VMAN is a men's fashion magazine that shines light on a new kind of man. How does Chapter 5 shine a new light on you?
TS As I've grown from a young man to a man, I think a lot of people have been able to see that progression [in the music], as far as my fans are concerned, as far as consumers are concerned, and just the general public. So I've gone from "Gotta Make It" to "Top of the World." I've gone from "I Invented Sex" to "Sex Ain't Better Than Love." I think life is about growth and I think fashion, in a lot of ways, is about growth as well. I think the new album will reflect very much where I'm going as a person and what I've been through. Music, for me, is very much an expression of how I felt at the time when that song was made. And it's almost been a year and a half since I put my last album out [2010's Passion, Pain & Pleasure], so we'll see how much I've grown and how much I've changed since that album's dropped.
SE Last year you launched Angels with Heart (AWH), the foundation that you started to unite all of "Trey's Angels." You have a really big following, and if anyone's been to one of your concerts you'll see signs and shirts and all the ladies going crazy, and they're all a part of Trey's Angels. What was your motivation behind it, and what exactly does the foundation do for the community and the individuals whose lives you touch?
TS Angels with Heart is something that's really dear to my heart. It's basically for homes and communities like the one I came from, with a lot of single moms and a lot of children who'd have an amazing future ahead of them if only they had that, and only that, to focus on. I remember coming up in Virginia, and a lot of kids would get in trouble after school and get into situations they didn't need to be in because they'd be home alone and they didn't have places to go. I came from a situation where I got clothes from the Salvation Army and I was on welfare, so to be able to contribute to people who are in need, like how I needed and how my mother needed back then, it's something that I'm truly blessed to be able to do. I eventually want Angels with Heart to have community centers where kids can go and study after school. We had a benefit concert in November, and dedicated a whole month to giving back. It's something I'm very in love with.

SE There has been a lot of cyber bullying and a lot of hate toward young people, through the Internet, texting, and things of that nature. What message would you send to young people as far as bullying goes?
TS Bullying is childish, and a lot of kids get stuck in situations where obviously something is wrong at home, so it's kind of a release for them. It's a comfort blanket and it's affecting so many people as well as themselves. It's important to speak not only to the people being bullied but to the bullies as well. To the people out there who are being bullied, just stay strong. There's only one you. I tell this to people all the time, to kids, to grown men, grown women: there's only one you, and to think that being you is not enough is to say that God didn't do his job, because He only made one you, and that alone should show you that you're special.
Read the full interview here.
Photos via Bruce Weber