Earlier this week, singer Rita Ora became the latest singer chick to get the free 99 discount on her music tracks.  Because she and Scottish super DJ & producer Calvin Harris have gone public with their couple status.  The two were spotted out on another date last night in London, and we've got video of Cassie& Diddy putting in work...
Rita Ora, rocking a red strapless Vivienne Westwood gown last night, may be hoping to get a mega hit record that will officially put her on the map as a pop star (instead of the fashionable socialite people end up marking her as).  Because she's now dating the same producer/DJ, Calvin Harris, who created one of Rihanna's biggest hits "We Found Love".  He's known for his own electro-dance songs, and produces hits for folks like Kylie Minogue.  And now, Rita Ora's dating him.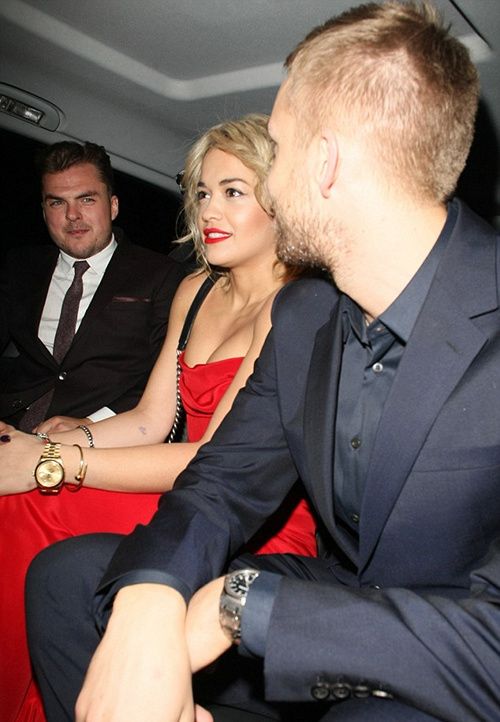 The two were spotted out in the UK last night celebrating Calvin's big win as Songwriter of the Year at the Ivor Novello Awards.  Rita, who was just given a $760,000 contract to become the new face of Madonna's "Material Girl" clothing line, posted a pic of him holding his award saying:
"Ivor novello's eh? Songwriter of the year. No big deal just pretty f****** awesome!! @calvinharris :))))".
Earlier this week when they popped up holding hands for the first time at Daft Punk's album release, Rita told her "X Factor" contestant friend Kye Sones that her relationship was "brilliant."  Good PR usually is...
In other couples news involving singing chicks and their producer boyfriends, Cassie released the second part of her video of behind the scenes footage of how she made her RockAByeBaby mixtape (available now).
Diddy pops up in the studio to help Cassie work on her new music.  And Cassie captured on video her mogul boo putting his producer hat on to make her sound like something we want to hear.  Check out their work of love above.
Photos: Fame