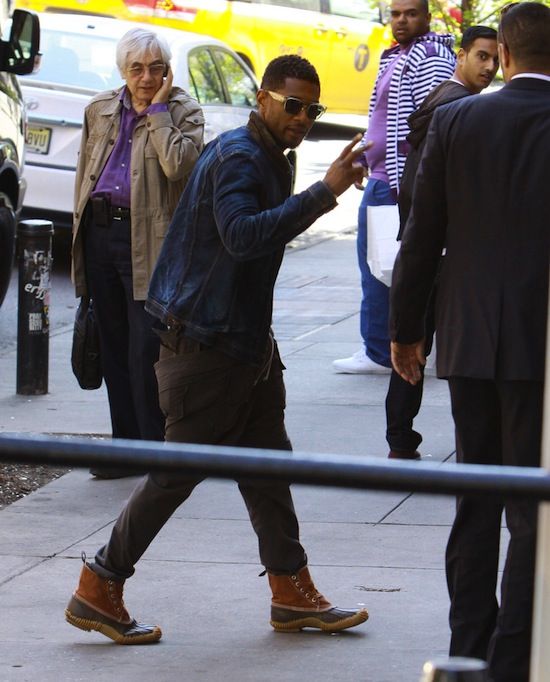 Usher's former nanny has filed suit claiming she wasn't compensated for the overtime she put in.  See how his camp responded inside...
Rich folks just don't know how to treat "The Help"....so the nannies say.  First we find out that Kim Porter"allegedly" had her nanny sweeping the floors and living out of a suitcase (with a door that didn't lock) and now, according to TMZ, Usher's ex-nanny, Cecilia Duncan, is claiming that Usher's is JUST AS BAD when it comes to treating his "help" nicely.
You'd think that celebrities would be kind to the people whom they've tasked with helping raise their kids....but maybe not.  Just ask Cecilia Duncan.  Cecilia says she started working for Usher in December 2010 (caring for his two sons, ages 4 & 5).  But pretty soon,  she says the job started veering into the 40+ hours category, but there was no increase/overtime in her pay. Hmm....sounds just like Kim Porter's lawsuit.
Cecilia says she made her frustration known (for over a year), then Usher up and fired her last September without ever giving her the overtime she asked for.  Again...sounds like Kim Porter's situation.
You'd think that the celebs would fear the disgruntled employee might take their anger out on the kids....but that doesn't seem to be a "Hollywood" concern.
Naturally, Usher's camp says the lawsuit is frivolous (just like Diddy's camp did).  We're sure we will hear that Cecilla had some "past arrest" record that they "just" discovered and that would explain why she was finally fired.
Not sure why one would choose to continue to work somewhere in which the felt they were being treated unfairly.  But it's very possible. 
Until they attempt to settle or dismiss the case, Cecilla wants six-figures for wrongful termination and failure to pay wages.
Good luck with that......