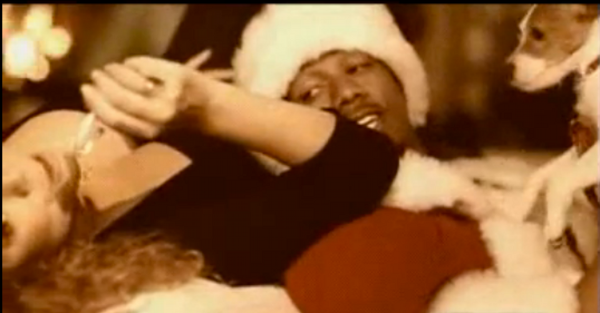 We all know Mariah Carey loves herself some Christmas.  Check out her brand new video showing off her private life in "When Christmas Comes" ft. John Legend.  Plus, the new Gym Class Heroes "Ass Back Home" video and the brand new "Men In Black III" trailer inside....
Mariah Carey shows off her private family side for her newest "When Christmas Comes" video.  It premiered last night during "A Very BET Christmas." And now you can see what the Holidays are like with the Cannons.
Check out her showing off her dogs, her love for her hubby Nick playing around and singing with friends above.
Travie McCoy and Gym Class Heroes debuted their new video "Ass Back Home" for their second single off their new album The Papercut Chronicles II.
Is it just us or is travie looking real...different these days?  Anywho, he told Ryan Seacrest today they created the benny Blanco production because, "The song was actually inspired by Matt's [drummer] relationship with his girlfriend and realizing why he is so Zen on the road."
Singer Neon Hitch is their leading lady in the vid, which was shot in Europe while on tour, as well.
And Will Smith and Tommy Lee are readying for a Memorial Day weekend May 25, 2012 return:
The brand new Men In Black III trailer is out.  And it looks like Agents J and K stay true to the the first 2 movies...with a bit of time traveling involved.  Will you be watching?