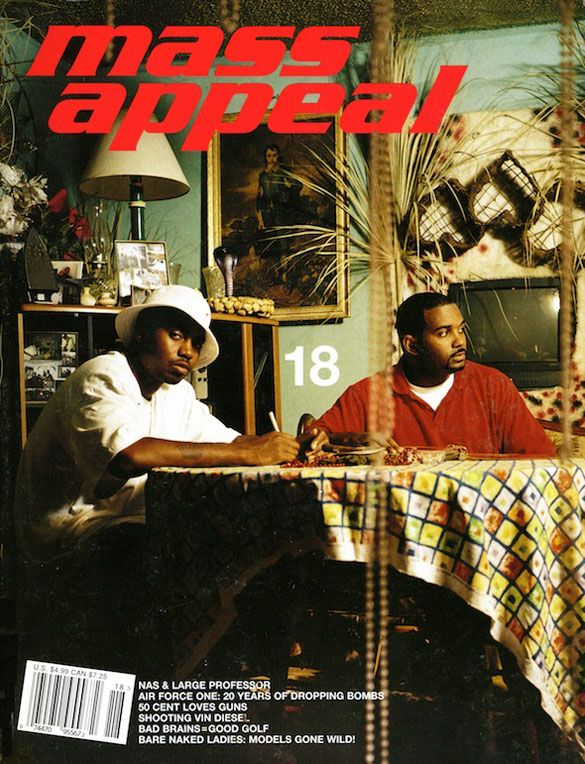 Rapper Nas is expanding his empire, adding the re-launch of MASS APPEAL Magazine to his listing of ownings.  See why Nas decided to invest in the re-launch and what it holds for his future inside....
Fans of the original Mass Appeal Magazine, a graffiti magazine founded in 1996, get excited.  The magazine will be rebooted with Nas (shown above on its 2002 cover) as its Associate Publisher. 
The rapper spoke to FORBES recently about his new acquisition, explaining that he was disappointed with the lack of options available to readers interested in hip hop culture. 

"Mass Appeal has a legacy and respect. It already has a foundation … I just feel like I can add on because I can lend my kind of cultural expertise and my professional acumen, and develop the business."  He added,  "They invested into the culture … I saw their vision for what they planned and I thought I could add value across the board."
After a five-year hiatus, the magazine's re-launch as a quarterly print product with web, video , monthly event components, is thanks to a hefty six-figure investment from the Life Is Good rapper.
While other rap moguls like Jay-Z, Diddy and 50 Cent each began exploring big business opportunities early in their careers, Nas explained his late start saying,
"I knew that this was down the road," he says. "I didn't care to interrupt me being a creative musical artist … I said I'll be more of a businessman down the road. I'm down the road now."
As a far as getting any criticism from the magazine about his own contributions to hip hop, Nas is letting his editorial board off the hook saying,
"If that happens, I don't want to see it until it's out," he says. "I won't get involved with that at all … I won't touch anything, they're free to say whatever they want. They can say I'm a psychopath, they can say I'm a sweetheart … as long as it's from their honest opinion, that's all that matters to me."
Congrats to Nas!  Glad he's working on business moves outside that rap life.
BONUS:
TV personalities Robin Roberts and Michael Strahan appear on separate covers of The Hollywood Reporter's third annual list of the 35 Most Powerful People in Media.  The list covers the folks at the forefront of the media whose decisions, tastes and words drive and influence pop culture and the national agenda at large. Nice!
Watch footage from BTS of the shoot here: