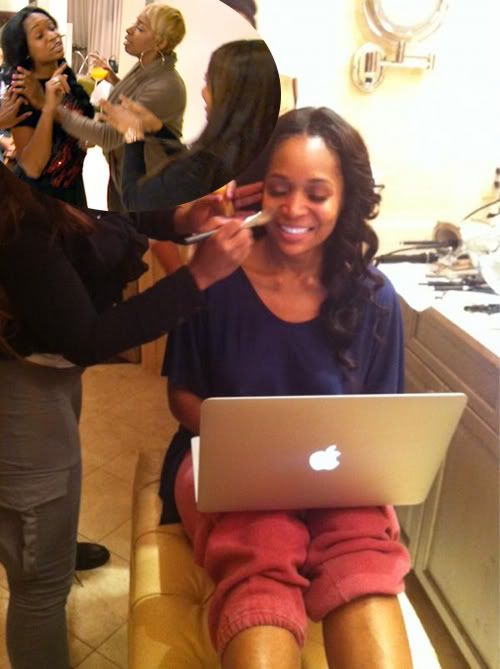 Marlo Hampton is sorry y'all.  When she got all in her feelings on last night's episode of "Real Housewives of Atlanta" during a catfight with Sheree Whitfield, she dropped the F bomb (the one that rhymes with maggot).  And the Housewives (and many viewers) were pretty shocked.
Now, she's taken to her website to issue a long apology.  Check it inside...
The utter foolery that was last night's South Africa trip episode of "Real Housewives of Atlanta" rasied many an-eyebrow.  For one, the fact Sheree & Marlo were literally across the world fighting like 10-year-olds over ish like Marlo not getting invited to Sheree's friend's party (despite the fact the two are NOT friends) is just embarrassing.  And secondly, dropping a gay slur, or any slur for that matter--just because you're mad--when you claim many of the people in that community are like family to you, is just odd. 
Sheree mentioned that her friend was gay, after the girls asked if this was more than a friend to her.  In the video above, when the uninvited Marlo got offended that Sheree didn't invite her to Sheree's friend's party, she went off. 
Marlo's exact words: "Well anyway, that's why you don't have a man. Go and hang with them f*****s with your ugly ass." 
As usual, Marlo used her gift of too much gab to apologize today and explain her actions.  She expressed her disappointment in herself and stated she wants to continue to build her "strong relationship" with the gay community.  Here's what she posted on her website:
It is with great disappointment in myself and sincere regret that I would like to issue to my friends, my most ardent supporters, and my followers, this statement:

I would like to offer from the bottom of my heart the fullest and most heartfelt apology for my recent use of an anti-gay slur. When I used this word, I was not mindful of the demeaning connotation that this has in the gay community. My speech was irresponsible, thoughtless and said with the intention of conveying anger rather than as a statement on my feelings towards the gay community as a whole.

My first action, after the incident was to contact my closest friend and assistant of 8 years and to confess what I had done, to express my sadness and regret, and to ask him for his forgiveness. I was devastated at the thought of having hurt or embarrassed him as well as any member of the gay community and relish this opportunity to publicly apologize. My friends have embraced me, supported me, withheld judgment of me and have meant a lot to me over the years. I would never abuse their kindness and friendship and would never want to hurt them or demean them in any way.

I applaud and admire this community for their triumph over a sometimes harsh, mean spirited society that discriminates and even violently attacks those who are different. These are obstacles that I relate to and that I have been inspired by them to overcome. I celebrate this community and am saddened by any indication otherwise, that my actions may have caused.

I look forward to continuing to build my strong relationship with you, my followers and supporters, and those of you who do not yet know me and my heart. I look forward to work to regain your trust, respect and your love which has so empowered me over the years. I also thank you for allowing me to address you personally and to let you know how deeply sorry I am.

With Love,

Marlo
 
Sigh.  Meanwhile, her friend and hairstylist Lawrence Washington, who also appears on "RHOA", tweeted last night:
Marlo and I have spoke about the comment she made 2 Sheree. There was no shade@ me personally. We r great friends and truly value each other. Marlo LIVES for the Kids!!! And so does Sheree! I love them both dearly!
Alrighty then...
Here's the foolywang fight aftermath: