"Love & War" singer Tamar Braxton spoke exclusively to TheYBF.com about juggling pregnancy and her burgeoning career. Find out how she does it inside.....
TheYBF.com attended a private viewing of "Braxton Family Values" with Tamar Braxton last night at the offices of Epic Records in NYC.  During our exclusive chat, the expectant diva dished about her pregnancy, her career and what she's learned about herself from watching "BFV".
With her song "Love & War" still high on the charts, Tamar says she's ready to juggle motherhood and an exciting recording career.
 "This is something I want to do.  My career is really taking off and I've been waiting for this opportunity all my life. And I don't want to miss one second of it.  I want to have my baby with me.  But I don't have to be at home."
Last season, "BFV" viewers watched as she struggled with fertility issues, but she jokingly revealed to us that she actually conceived her baby one "drunken" night. WOMP.
Though she wouldn't confirm if her good friend Tiny was correct when she blurted out that Tamar was expecting a baby boy on "Tiny Tonight", she did say that she would have a celebrity play date with T.I. and Tiny because she trusts Tiny with her baby. And when it comes to the Braxton sisters, she thinks Towanda would be the best babysitter because she's the most responsible.
We also talked about how she's grown personally over the past few years. Since filming "BFV" and "Tamar & Vince", she told us that she realized everything doesn't need a "comment."  And now that she watches her "comments", she's in a better place with her sisters.
She also talked about husband and manager Vince Herbert whom her sisters call her "velcro" because they're always together. She says they are celebrating their 10th anniversary this month.
Tamar was glowing in a short maternity dress which she paired with a black blazer and black Christian Louboutins.
She says she's been craving Apple Fritters from Dunkin Donuts since the pregnancy.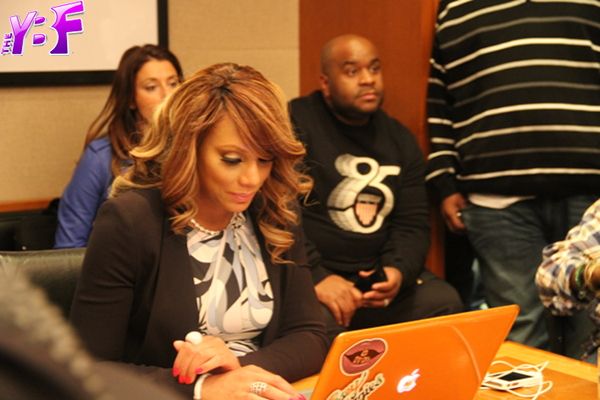 We also talked to producer LaShawn Daniels, the writer of "Love & War". He revealed that he's committed to Tamar's project because she's like family to him.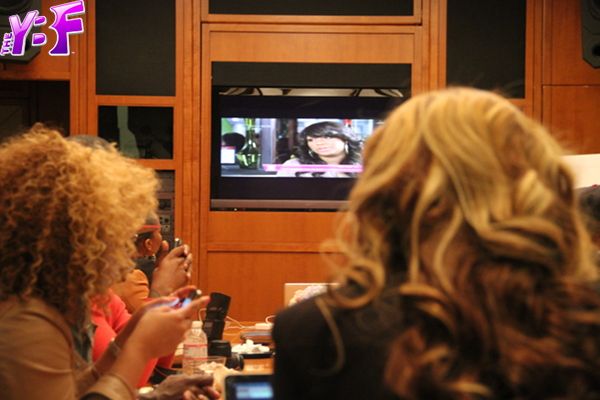 And for all the die-hard Tarmartians, Vince told us that Tamar's next single will be released in the next 2 to 3 weeks.
BONUS:
Watch a sneak peek of Tamar Braxton's performance from the BET's "CELEBRATION OF GOSPEL" which premieres Sunday, April 7th at 8:00 P.M. ET/PT on BET.
EXTRAS:
1.   Chaz Ebert released a statement about the death of her husband, film critic Roger Ebert saying, "I've lost the love of my life and the world has lost a visionary and a creative and generous spirit who touched so many people all over the world."Story.
Photos/Video by Shirley Vernae& Shayla Sommerville