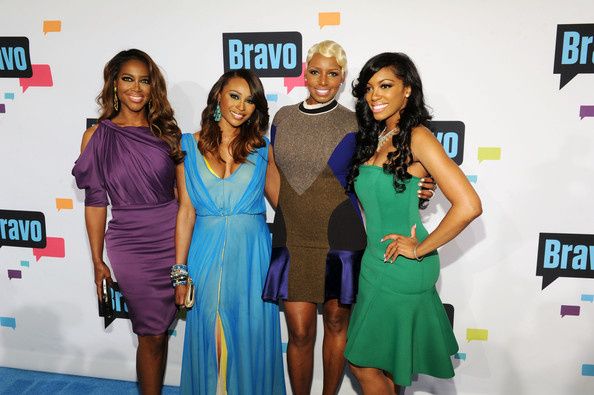 The "Real Housewives of Atlanta" trekked it to NYC yesterday for the BRAVO upfronts.  And surprise....the soon-to-be-divorced Porsha Stewart made an appearance and was all smiles.  Does this mean she may be returning tot he show afterall?  Pics inside...
Look who's still in the fold. After Porsha Stewart cleared the heartless egg from her face after getting blindsided with divorce papers, she slapped on a smile and whipped her hair and makeup into shape to put on a brave and pretty face for last night's BRAVO Upfronts.
At Pillars 37 Studios, the whole cast of ATL Housewives was on hand to give media a look at what their show has done, and what's in store for the next season.  And since cameras were flashing, we're sure Kim Zolciak acted like she was still a true cast member of the Atlanta Housewives...as if she didn't play her co-stars out like she was "above them all."
Still, the ladies turned up looking fab for the occasion.  Kenya Moore kept it chic in a purple one shoulder dress and full body waves.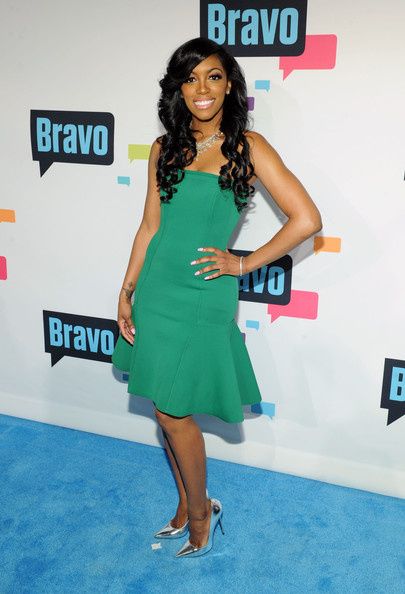 Her fave frenemy Porsha Stewart rocked a cute green dress and silver pumps. Is it just me or is that one of those "fake it till I can smile for real" smiles that could turn into a cry at any minute?  Sigh.  Keep ya head up girl.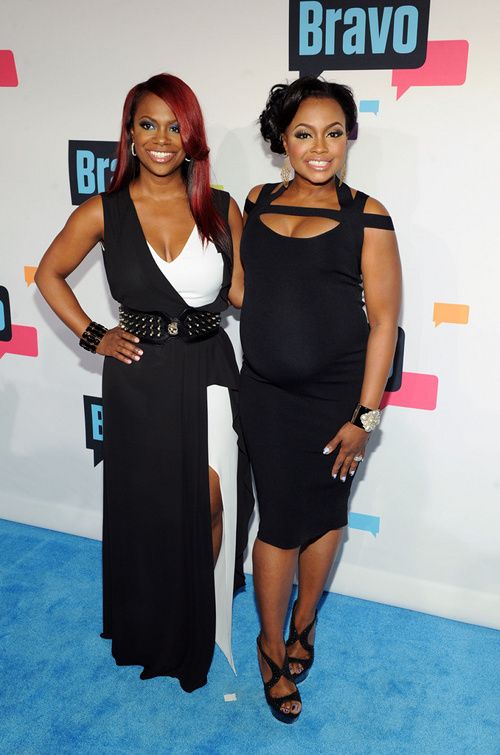 Phaedra Parks put on her wedges as she pulled off a balancing act with her baby belly.  Chick looks slightly painful and should be ready to pop any day now it seems.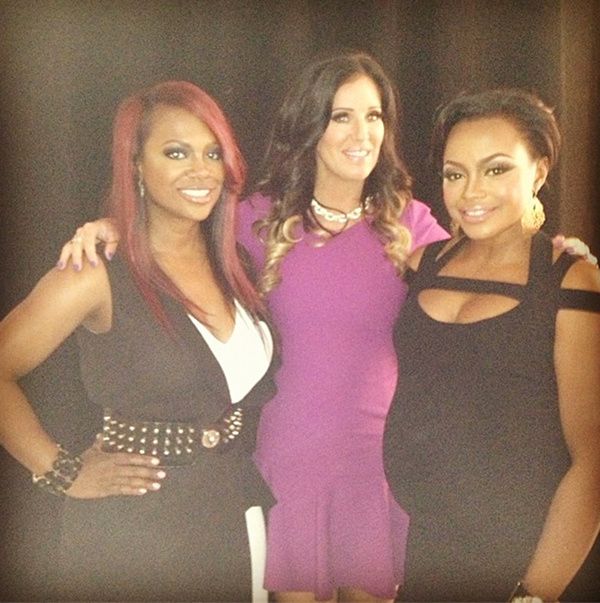 Kandi, who snapped a pic with BRAVO's "Millionaire Matchmaker" Patti Stanger kept it cute in a sexy black & white maxi dress and her usual wide slightly country belt.  She was also promoting her upcoming spinoff show "The Kandi Factory".  Wonder what happened when she and Kim Z., who she's suing, ran into each other.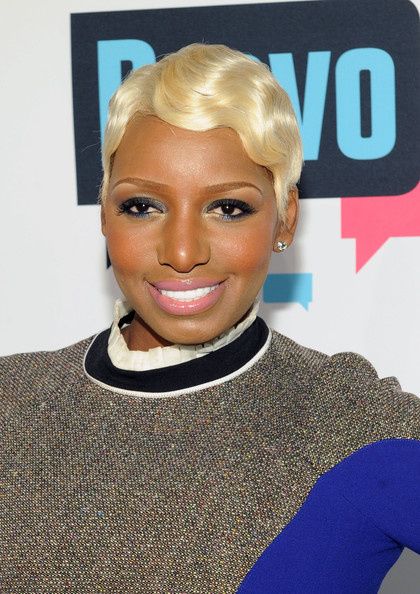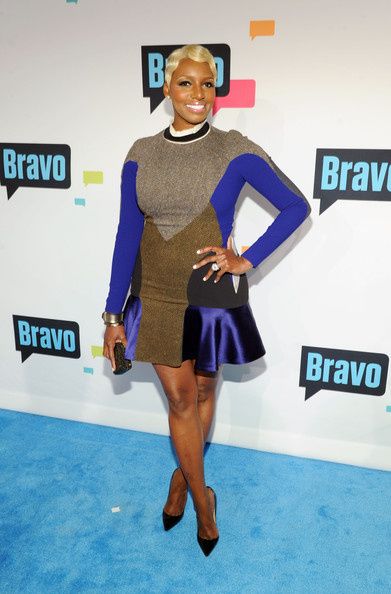 NeNe Leakes rocked a fresh and fun look in a flirty multi colored and purple satin mixed media style dress.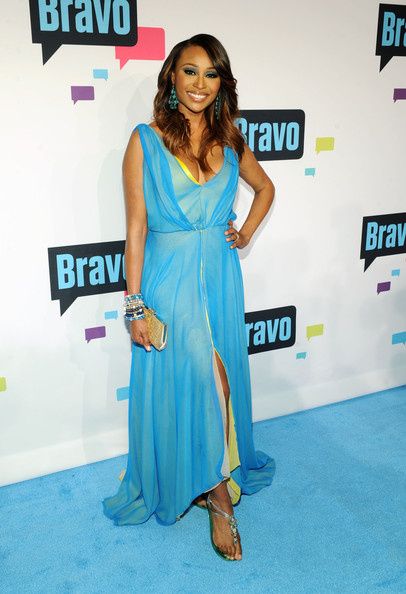 Cynthia Bailey looked amazing in this blue & yellow chiffon maxi gown with a new longer auburn locks.  Very pretty as usual.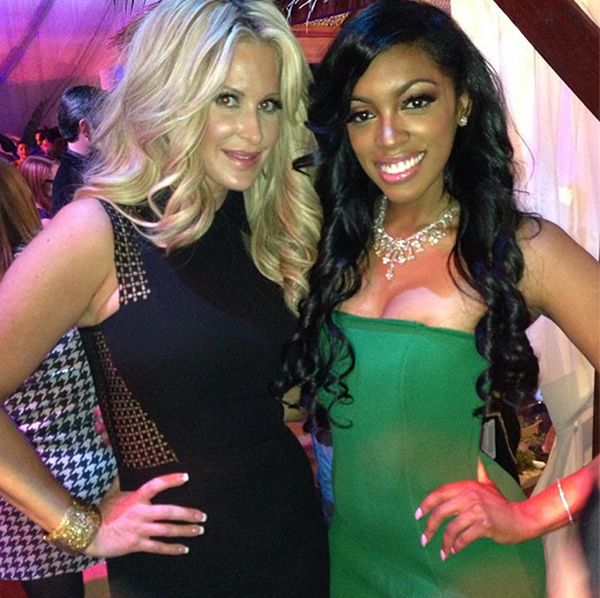 And it looks like Kim has found a friend in newbie Porsha.  Wonder how long that will last.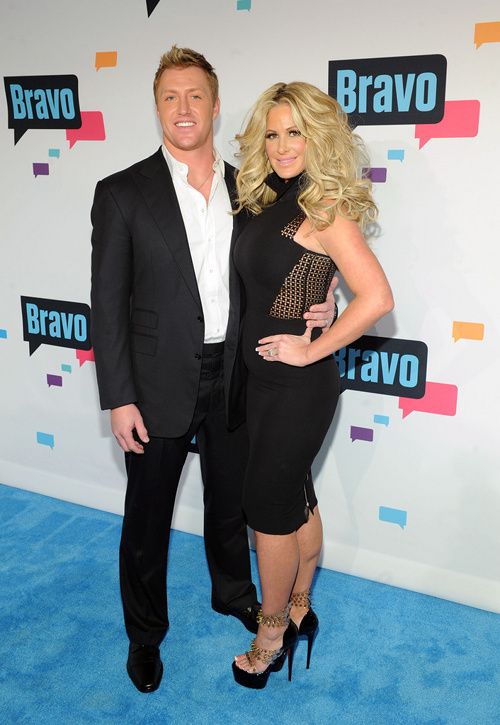 The new mom of four posed it up with her hubby Kroy Biermann as they promoted both "Housewives" and "Don't Be Tardy." 
Sidenote: What does im do all day?  What are we supposed to watch exactly?  No job (not even a semi-job for the cameras), no events, no wedding to plan, no charity work, no sugar daddy (that will appear on camera at least), etc.  So when she wakes up in the morning we're going to see her fixing her lopsided wigs, getting her cellulite treatements again and yelling at Sweetie all day to do stuff she really has all the time in the world to do her damn self?  Like, really.  It's just baffling.
And Chef Roble was there as well to pub the upcoming season of his show.  Love him.
Photos: INF