Regina King has spoken out about rumors of a break-up with her Hollywood boo, Malcolm Jamal Warner, saying you can't believe everything you read.  See Regina's Twitter post inside....
News from Us Weekly yesterday was that actor Malcolm Jamal Warner and actress Regina King had parted ways...at Malcolm's request.  Though the "Reed Between The Lines" star has not spoken out about the alleged break-up, Regina spoke to her fans on Twitter today saying you can't believe everything you read.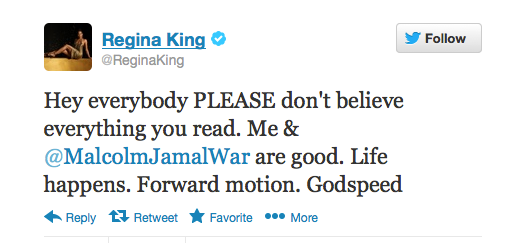 It's interesting to note that Regina says they "are good," but never explicitly denies a break-up. 
So did they or didn't they?  And we're thinking the "please don't believe everthing you read" line might refer to Malcolm "not feeling it anymore" OR the part about him asking her and her son to move out of his home. 
Though she's not giving us specific details about what's happening, we think it's safe to assume that where there's smoke....there's fire. We'll keep you posted.....